Santa Claus
Discuss

14
22,528pages
on this wiki
Loading...
Santa Claus Thorvar Crittersmash Hooded stranger



Nicklaus, more commonly known as Santa Claus or Father Christmas is a Christmas themed non-player character who made an appearance in the 2004, 2005, 2008, 2009 and 2010 Christmas event. He is the father of Jack Frost, and husband to the Queen of Snow.
Santa is seen not wearing a Santa hat, but is instead wears a hood, although in 2004 he wore a hat.
2004 Christmas event
Edit
During the 2004 Christmas Event, Father Christmas appeared in numerous free-to-play and pay-to-play cities, these being East Ardougne, Varrock, Falador, Catherby, and Yanille. He could usually be found along important roads or in town centres.
When spoken to, Father Christmas would give players a yo-yo, a toy that only players who attended the event can receive. If players lost their yo-yo, they could obtain another by speaking to him again. If the player already had a yo-yo, he would just wish them a merry Christmas.
Following the event, Father Christmas disappeared. If players needed a new yo-yo, they could obtain one from Diango in the Draynor Village market.
2005 Christmas event
Edit
In 2005, Father Christmas appeared at the gate east of Taverley, near Doric's house. When players were instructed to deliver a box of baubles to a person at the gate, they would find him there, although he was called "Hooded stranger".
During this event, he played a much less significant role, and was mostly just in-game as a sort of Easter Egg. As usual, he was removed following the event.
2008 Christmas event
Edit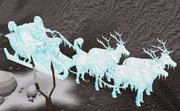 In the 2008 Christmas event, his son, Jack Frost, freezes him, his sleigh and his four reindeers. Usually, Santa Claus is supposed to have 8 reindeers, excluding Rudolph.
Players had to defrost him by lighting several logs around his sleigh. Once he was defrosted, players were awarded with the four pieces of the Santa suit.
2009 Christmas event
Edit
Santa Claus returns in 2009 Christmas event. In this event, the Christmas-hating Ebenezer Scourge kidnaps him and steals the food prepared for the Christmas feast organised by the Queen of Snow. Scourge does this to seek revenge on the Queen of Snow.
Santa Claus is freed when players, wearing the Ghost costume, scare Ebenezer Scourge by pretending to be the Ghost of Christmas Yet to Come. If players wore the costume and talked to Santa Claus, he mistakes the player for a real ghost, but quickly realises that the ghost is the player.
2010 Christmas event
Edit
For the 2010 Christmas event, Santa (badly) disguises himself as Fremmenik called Thorvar Crittersmash and tries bring Christmas to the Fremennik warriors fighting in Daemonheim. During the event, you have to collect items that Thorvar left in a dungeon when he was attacked by a "ferocious creature" (A Heim crab named Salty Claws). According to Thorvar, he is a Fremennik, and Thok does not despute this, claiming he is obviously a Fremmennik as "He climbs through chimneys and into fireplaces, he is almost as strong as me". After completing the event, he can teleport you to the Heimland Games and gives you the reward.