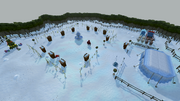 Santa's Christmas neighbourhood was the setting of the 2016 Christmas event, located in the Land of Snow. It had eleven Christmas cupboards that took the player to various Christmas events from previous years, 2007, 2010, and 2011. To get here, players had to teleport via one of the three Christmas cupboards located in Burthorpe, Varrock, or Lumbridge, or the holiday portal located in Prifddinas. Players could also claim their 2016 snowboard from the snow mound right outside of the wooden fence just south of the tent.
Ad blocker interference detected!
Wikia is a free-to-use site that makes money from advertising. We have a modified experience for viewers using ad blockers

Wikia is not accessible if you've made further modifications. Remove the custom ad blocker rule(s) and the page will load as expected.