Sani Piliu was the only known female member of The Myreque. Her family was slain by Vampyres when she was nine. After surviving on her own devices, she bumped into Veliaf Hurtz in the Hair of Dog Tavern. She joined the Myreque to avenge the death of her family and to eventually escape across the River Salve. She was killed by Vanstrom Klause during his raid of the Myreque's Canifis headquarters, along with Harold Evans.
During River of Blood, her severed head is seen while the player is hallucinating. She says that she didn't think she would last that long and that she would be the first to die.
During In Memory of the Myreque, a statue is built honouring her sacrifice. It is revealed that she used to use crushed pointed blamish blue shells to dye her hair blue.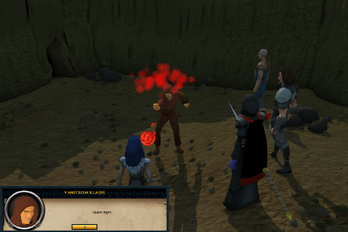 Ad blocker interference detected!
Wikia is a free-to-use site that makes money from advertising. We have a modified experience for viewers using ad blockers

Wikia is not accessible if you've made further modifications. Remove the custom ad blocker rule(s) and the page will load as expected.