Sandy is a sandcastle pet which can be unlocked by activating a sandcastle companion pet token from the 2017 Summer Beach Party. Interacting with Sandy will cause it to perform its emote.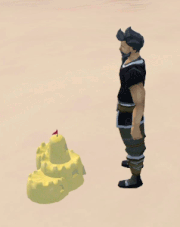 Sandy may have been inspired by the Pokémon Palossand.
NPCs
Items
Rewards
Interactive scenery
Music
Treasure Hunter
Summer Beach Party
Ad blocker interference detected!
Wikia is a free-to-use site that makes money from advertising. We have a modified experience for viewers using ad blockers

Wikia is not accessible if you've made further modifications. Remove the custom ad blocker rule(s) and the page will load as expected.