Sacred clay platelegs
Discuss

0
22,527pages
on this wiki
This article is about the reward item purchased with Stealing Creation points for use outside of the
minigame
. For the platelegs used inside the minigame, see
Platelegs (Stealing Creation)
.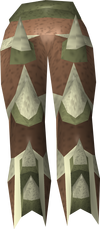 Sacred clay platelegs
are obtained during the
Stealing Creation
minigame
. It was released on
11 November
2008
. Players can buy it from the
Rewards mystic
for 28 points. It can then be transformed from melee (rune platelegs bonuses) to ranged (green d'hide bonuses) or magic armour (mystic robe bottom bonuses). These platelegs are comparable to
rune platelegs
in terms of defensive bonuses, but players prefer this because it is much lighter than rune platelegs, and it is easier to get. This item can be transformed as many times as you want until its charges are at 0%. After granting a certain amount of bonus experience, the charges will go to 0% and stop giving bonus experience. After this item has been used up, players must recharge it at the Stealing Creation shop by paying the Rewards Mystic 20 stealing Creation points.
Sacred clay platelegs are highly recommended for use in place of rune platelegs in situations with a risk of death, however, most players prefer to save and use them for the experience bonus. They are also considered a very good alternative to dragon platelegs and barrows armour for those who cannot afford Bandos tassets
Sacred clay armour is widely held as the most efficient questing armour in the game as it is extremely light (a full rune set can be fully counteracted by boots of lightness and hunter capes) and because of its ability to change battle forms.
Alchemy has no effect on sacred clay, and if tried a message says, "Alchemy spells have no effect on sacred clay."
Combat Stats

| Class | Slot |
| --- | --- |
| Melee | |

Weapons
Main
Off
Damage
-
-
Accuracy
-
-
Type
-
-
Attributes
Armour rating

187

Life bonus

+900

Prayer bonus

0

Critical bonuses

0%

0%

0%

Compare item

A player wearing full sacred clay armour morphed into melee form

[view] • [talk]
Armour and Weapons

| | |
| --- | --- |
| Mage | Hat • Robe top • Robe bottoms • Staff |
| Melee | |
| Ranged | |
| Shield | |

Proto-tools

Pickaxe • Hatchet • Harpoon • Butterfly net • Hammer • Needle • Fletching knife

Volatile tools

Pickaxe • Hatchet • Harpoon • Butterfly net • Hammer • Needle • Fletching knife