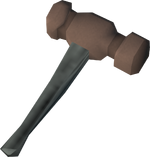 The Sacred clay hammer is obtained from transforming a proto-tool bought from Rewards Mystic with 20 Stealing Creation points. 24,450 bonus experience could be gained from it, which will be stored and used up while training Smithing or Construction.
The sacred clay hammer had the normal hammer animation for Smithing until the Stealing Creation update in December 2008. The animation for Construction was updated in February 2009.
When used with Varrock armour 3 to speed up the smithing process, it used to show the normal hammer in the animation instead of the sacred clay hammer, but this has since been updated.
If the sacred clay hammer and a regular hammer are both in the player's inventory, while smithing a number of items, it will switch back and forth between the two hammers.
When there are multiple sacred clay hammers in your inventory, the first one in your inventory is used.
Ad blocker interference detected!
Wikia is a free-to-use site that makes money from advertising. We have a modified experience for viewers using ad blockers

Wikia is not accessible if you've made further modifications. Remove the custom ad blocker rule(s) and the page will load as expected.