Sacred clay bow
Discuss

0
22,527pages
on this wiki
This article is about the reward item purchased with Stealing Creation points for use outside of the
minigame
. For the bows used inside the minigame, see
Bow (Stealing Creation)
.
The Sacred clay bow is a weapon obtained as a reward from Stealing Creation. It offers the same bonuses and speed as a magic shortbow, and just like the magic shortbow, requires 50 Ranged to wield and can fire arrows up to rune.
Using this weapon in combat gives double experience until it runs out of charges (after a total of roughly 33.3k experience has been gained). Once its charge has depleted, no bonus experience will be gained, nor can it be changed into other morphic weapons until recharged. Recharging it costs 20 stealing creation points.
This bow does not grant double experience when Barbarian firemaking.
Combat Stats

| Class | Slot |
| --- | --- |
| Ranged | |

Weapons
Main
Off
Damage
463
-
Accuracy
850
-
Type
Arrow
-
Attributes
Armour rating

0

Life bonus

+0

Prayer bonus

0

Critical bonuses

0%

0%

0%

Attack speed

Fast

Interval: 3.0 seconds

Compare item

A player wearing full sacred clay armour morphed into ranged form

[view] • [talk]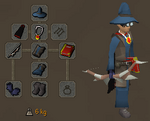 Shortbows

Shortbow (u) • Oak shortbow (u) • Willow shortbow (u) • Maple shortbow (u) • Yew shortbow (u) • Magic shortbow (u) • Quickbow

Shieldbows

Shieldbow (u) • Oak shieldbow (u) • Willow shieldbow (u) • Maple shieldbow (u) (sighted)• Yew shieldbow (u)• Magic shieldbow (u) (sighted)

Composite bows

Willow composite • Ogre comp • Yew composite • Magic composite

Special bows

Training • Chargebow • Kayle's chargebow • Barbed bow • Sacred clay • Ogre • Ogre comp • Gravite shortbow • Seercull • Dark • Crystal • Zaryte

Crossbows

Bronze crossbow • Blurite crossbow • Iron crossbow • Steel crossbow • Black crossbow • Mith crossbow • Adamant crossbow • Rune crossbow • Dragon crossbow • Armadyl crossbow • Chaotic crossbow•Royal crossbow

Javelins

Bronze javelin • Iron javelin • Steel javelin • Mithril javelin • Adamant javelin • Rune javelin

Throwing axes

Bronze throwing axe • Iron throwing axe • Steel throwing axe • Mithril throwing axe • Adamant throwing axe • Rune throwing axe

Other items

Cannon • Snowball • Chinchompa • Red chinchompa • Holy water • Hand cannon • Arrows • Sagaie • Bolas
Armour and Weapons

| | |
| --- | --- |
| Mage | Hat • Robe top • Robe bottoms • Staff |
| Melee | |
| Ranged | |
| Shield | |

Proto-tools

Pickaxe • Hatchet • Harpoon • Butterfly net • Hammer • Needle • Fletching knife

Volatile tools

Pickaxe • Hatchet • Harpoon • Butterfly net • Hammer • Needle • Fletching knife