Sacred clay hatchet
Discuss

11
22,530pages
on this wiki
This article is about the reward item purchased with Stealing Creation points for use outside of the
minigame
. For the hatchets used inside the minigame, see
Hatchet (Stealing Creation)
.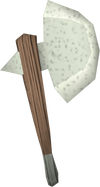 The
Sacred clay hatchet
is obtained from the
Morphic tool
(costing 20
Stealing Creation
points). It gives double experience while used. It has a X% charge. The charge decreases as experience for using it is given. At 0% charge, it disappears. It can be reverted back to a
morphic tool
and then changed into any morphic item with a cost of 10% of the remaining charge.
A sacred clay hatchet cannot be used in the sawmill in the lumber yard for sawmill training.
Combat Stats

| Class | Slot |
| --- | --- |
| Melee | |

Weapons
Main
Off
Damage
24
-
Accuracy
10
-
Type
Slash
-
Attributes
Armour rating

0

Life bonus

+0

Prayer bonus

0

Critical bonuses

0%

0%

0%

Attack speed

Fast

Interval: 3.0 seconds

Compare item

A player wielding a sacred clay hatchet

[view] • [talk]
The sacred clay hatchet cuts as if it was a rune hatchet as seen in a glitch when you use the pickaxe form of it on a rock. In the new update regular hatchets cut trees faster, but the Sacred Clay Hatchet cuts in the older style way. Anything other than a regular woodcutting tree that requires a hatchet (Woodcutting stump, etc.) does not accept the Sacred clay Hatchet. Players may use the Sacred Clay Hatchet on Evil Trees and to make Canoes.
Many players tend to prefer the Dragon hatchet over the sacred clay hatchet because the dragon hatchet doesn't need to be recharged constantly and provides a faster chop. The need to constantly recharge this hatchet especially when chopping higher trees such as yew trees is one of the main reasons it is not more widely used, although it is commonly used to cut the Evil Tree because of its double experience. It has been calculated that if you average 50-60k in a game of Stealing Creation, then if you account for the time spent for transportation and for waiting on additional games to start (on a crowded world), then at Level 74 Woodcutting with the entire Lumberjack set, you will end up with a net ~952.245 experience per minute using the Sacred Clay Hatchet on Choking Ivy, whereas with the Dragon Hatchet you will get a consistent ~1153.5 experience per minute at the same level while cutting ivy with full Lumberjack. If you don't account for the time spent obtaining the Sacred Clay Hatchet, you will be getting ~1869.222 experience per minute at this level with full Lumberjack using this item on ivy.
| Logs | Regular XP | Sacred Clay XP | Total XP per hatchet |
| --- | --- | --- | --- |
| Regular | 25 | 50 | 25,000 |
| Oak | 37.5 | 75 | 27,675 |
| Willow | 67.5 | 135 | 33,294 |
| Teak | 85 | 170 | 40,000 |
| Maple | 100 | 200 | 32,800 |
| Mahogany | 125 | 250 | 32,750 |
| Arctic Pine | 140.2 | 280.4 | 33,827 |
| Eucalyptus | 165 | 330 | 33,169 |
| Yew | 175 | 350 | 33,124 |
| Ivy | 332.5 | 665 | 33,250 |
| Magic | 250 | 500 | 33,419 |
The sacred clay hatchet is very commonly used to chop willow trees as it gives more bonus experience than cutting yew and nearly magic trees from a 100% charge to a 0% charge.
Many people still cut normal trees with the hatchet because they can transform it into fletching knife and cut them into arrows.
Before the random event update, if you attempted to chop an ent, it would give you a message telling you that you don't have an hatchet that you can use. This is because a normal hatchet would have been broken, thus making this message accurate.
The sacred clay hatchet can be used in conjunction with the lumberjack outfit which gives an experience bonus to woodcutting. The lumberjack bonus is applied before the bonus of the hatchet, which allows for a greater amount of experience to be earned.
There was a glitch where the sacred clay hatchet was usable in F2P worlds. This has been fixed.
Chopping a tree with only the hatchet in your inventory used to bring up the message: "You do not have a hatchet which you have the Woodcutting level to use." This has been fixed.
The hatchet does not have the same equip stats as a rune hatchet. Instead, it has the stats more of a bronze hatchet, except with -2 stab attack bonus.
It is highly recommended to bring another hatchet while Woodcutting with the Sacred clay, as it degrades quickly. Woodcutting Yew trees, it only takes about 20–30 minutes to degrade.
The Sacred Clay hatchet degrades exactly 2% for every magic log chopped.
If you have a Dragon hatchet in your inventory and you wield a Sacred clay hatchet, you will automatically use the Sacred clay hatchet when chopping trees. If you have a Dragon hatchet and a Sacred clay hatchet in your inventory, you will automatically use the Dragon hatchet. Wielding a Dragon hatchet with a Sacred clay Hatchet in your inventory causes you to automatically use the Dragon Hatchet when chopping trees.
If you wield a sacred clay hatchet and it runs out of charges you keep chopping and getting logs until you run out of Inventory space or the tree disappears.
The sacred clay hatchet gives the most XP when used on teak trees (40k xp).
Upon release, Sacred clay tools did not provide bonus experience. However due to players of taking advantage of experience gain within Stealing Creation, Jagex changed it so that you would no longer gain experience with in the activity but instead gain bonus experience outside of it.
Armour and Weapons

| | |
| --- | --- |
| Mage | Hat • Robe top • Robe bottoms • Staff |
| Melee | |
| Ranged | |
| Shield | |

Proto-tools

Pickaxe • Hatchet • Harpoon • Butterfly net • Hammer • Needle • Fletching knife

Volatile tools

Pickaxe • Hatchet • Harpoon • Butterfly net • Hammer • Needle • Fletching knife