Runite ore is obtained from mining runite ore rocks, requiring level 85 Mining, and granting 125 Mining experience. Runite can be smelted in a furnace with 8 coal to form a Rune bar, requiring level 85 Smithing. Rune bars can be smithed into various types of weapons and armour.
After being mined, runite rocks take between 12.5 to 25 minutes to respawn, depending on the population of the server; the more populated the server, the shorter the respawn time. Runite rocks inside the Wilderness respawn 33% quicker.
Using the superior locator, a reward from Mobilising Armies, players can teleport to one of five runite mines across RuneScape. Players should be aware that two of the five possible locations are within the wilderness, and the player may encounter player killers; no warning will be given upon activation of the locator.
At level 96 Divination, 6 adamantite ores and 10 incandescent energy may be transmuted into 1 runite ore, granting 23.2 Divination experience and yielding a gross profit of 1,896 coins.
[view]
•
[talk]
Locations
Edit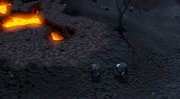 For non-members without 45 Dungeoneering, runite ore can be dangerous to mine. Two rocks can be found at the Lava Maze runite mining site.
An alternative to the Wilderness is the Mining guild resource dungeon. This mine is more popular because it is safer, and as such it can be very hard to find a rock that hasn't already been mined. The release of this mining site more than doubled the number of non-member runite rocks; the following oversupply of ores significantly deflated the price of Runite ore.
For members, several other less dangerous options exist to mine runite, including the Heroes' Guild, Keldagrim north mine, and the Neitiznot runite vein. These ores are often mined and as a result are usually depleted. If the voice of Seren is active in the Trahaearn clan district in Prifddinas, runite rocks can become harmonised and are similar to gold and coal deposits in the Living Rock Cavern. Harmonised runite rocks allow multiple ores to be collected from one rock until the rock deactivates.
Respawn rate
Edit
The respawn rate of all ores, depends on the number of people in the RuneScape world. If the world is empty, the ore respawns in 25 minutes; if it is full (with 2000 players), it respawns in 12.5 minutes. Thus the respawn rate of runite ore is
minutes, where x is the number of players in the world.
At the reinstatement of Free Trade in February 2011 runite ore respawn times in the Wilderness were reduced to 2/3rds of their normal value, resulting in a faster respawn rate. The respawn rate in the Wilderness is thus
minutes, where x is the number of players in the world.
A table of respawn rates is given below.
| Players | 0 | 200 | 400 | 600 | 800 | 1000 | 1200 | 1400 | 1600 | 1800 | 2000 |
| --- | --- | --- | --- | --- | --- | --- | --- | --- | --- | --- | --- |
| Respawn time | 25:00 | 23:45 | 22:30 | 21:15 | 20:00 | 18:45 | 17:30 | 16:15 | 15:00 | 13:45 | 12:30 |
| Wilderness respawn time | 16:40 | 15:50 | 15:00 | 14:10 | 13:20 | 12:30 | 11:40 | 10:50 | 10:00 | 9:10 | 8:20 |
Drop sources
Edit
This list was created dynamically. For help, see the FAQ.
To force an update of this list, click here.
For an exhaustive list of all known sources for this item, see here.
Disassembly
Edit

Runite ore used to be called Rune ore.
Runite is considered a delicacy to dragons, as discovered in the Varrock Museum.
Melee weapons
Ranged weapons
Tools
 Hatchet
 Pickaxe
Armour
Rewards
Other
 Ore
 Bar
 Nails
 Arrowheads
 Bolts (unf)
 Dart tip
 Limbs

Treasure Trail

Trimmed
Gold-trimmed
Gilded
God armour

| | |
| --- | --- |
| Ancient | |
| Armadyl | |
| Bandos | |
| Guthix | |
| Saradomin | |
| Zamorak | |

Heraldic armour
Other
 Cane
Ad blocker interference detected!
Wikia is a free-to-use site that makes money from advertising. We have a modified experience for viewers using ad blockers

Wikia is not accessible if you've made further modifications. Remove the custom ad blocker rule(s) and the page will load as expected.