Join the RuneScape Wiki
Common Trade Index
110.39 

 +0.08
Opinion poll
Are you currently a member of a clan?
Results of the previous poll
Have you ever had problems with your RuneScape bank space? (2,534 votes)
Yes, my bank is full all the time! —

55.4%

1403
Rarely - I clean/organise my bank —

20.3%

514
Yes, but I solved it with bank boosters —

12.5%

317
Only when I ran out of membership —

8.4%

214
Never! I only keep essential items —

3.4%

86
Featured image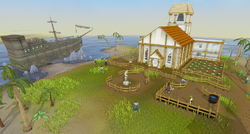 A tranquil Saradominist islet in the Eastern Sea, with only minor zombie pirate invasions.
Ad blocker interference detected!
Wikia is a free-to-use site that makes money from advertising. We have a modified experience for viewers using ad blockers

Wikia is not accessible if you've made further modifications. Remove the custom ad blocker rule(s) and the page will load as expected.