26,244 articles since 8 April 2005.
18 September 2014
Common Trade Index
136.62 

 +1.98
Featured image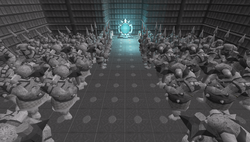 Bandos's throne room
Guarded by its everlasting army.
More featured images...
Opinion poll
What is your opinion on the "Rate this page" tool?
Results of previous poll:
Total votes: 1,742
What content should the wiki focus on next?
Skill training guides —

66.3%

1155
Random items few have —

12.4%

216
Monster strategies —

9.6%

167
Monster strategies —

3.8%

67