24,282 articles since 8 April 2005.
10 December 2013
Common Trade Index
113.02 

 +0.81
Featured image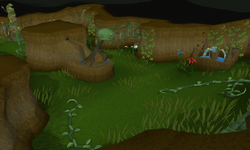 Nature Grotto
Solace can be found in the peace and silence of the grotto.
More featured images...
Opinion poll
What do you think of bonds, Jagex's new real world trading initiative?
Results of previous poll:
Total votes: 2177
Which of the rewards of Super September do you want to obtain?
I am going to hunt down all rewards! —

67%

808
I want the Superhero outfits. —

3.23%

39
Those titles sound appealing! —

1.99%

24
Give me that shield! —

2.24%

27
A pair of claws. —

3.23%

39
I do not wish to complete any challenges. —

22.31%

269