25,200 articles since 8 April 2005.
21 April 2014
Common Trade Index
124.78 

 -1.82
Featured image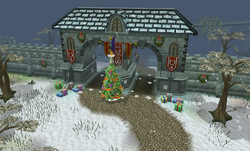 Grand Exchange
A festive Grand Exchange in winter time.
More featured images...
Opinion poll
Which combat mode do you use the most?
Results of previous poll:
Total votes: 2,827
What do you think of "Power to the Players"?
It's great Jagex is showing they will listen. —

68.8%

1945
I don't think a polling system is good. —

18.1%

512
I wish there it was more dynamic input. —

6.8%

191
I wish we were deciding different things. —

4.8%

135
I'm completely indifferent. —

1.6%

44