Join the RuneScape Wiki
Common Trade Index
126.30 

 -1.42
Opinion poll
How much XP do you hope to gain on the upcoming double XP weekend?
Results of the previous poll
What are you most looking forward to this December? (1,189 votes)
Winter Weekends! —

16.8%

200
Christmas event! —

20.2%

240
Advent Calendar! —

37.7%

448
None of the above —

9.4%

112
Featured image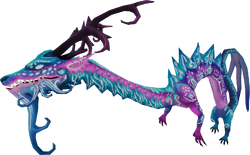 An Acolyte of Seiryu that has attained enlightenment and become a spirit dragon.