24,361 articles since 8 April 2005.
12 December 2013
Common Trade Index
115.02 

 +0.52
Featured image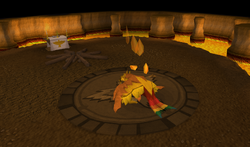 Phoenix Lair
A wounded Phoenix, lying in the centre of the ring.
More featured images...
Opinion poll
What are you looking forward to with World Event 2?
Results of previous poll:
Total votes: 2177
What do you think of bonds, Jagex's new real world trading initiative?
Let's wait to see how well they work. —

67.2%

2840
Love them! It'll crack down on gold farmers. —

21.65%

915
Hate them! They won't be effective. —

11.15%

471