This article is about the mobile RuneScape client. For the companion app, see
RuneScape Companion
.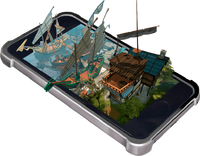 RuneScape Mobile is an upcoming mobile client for RuneScape and Old School RuneScape (known as Old School Mobile) announced on 17 July 2017. There will be two separate apps for the games,[1] and the apps will be available for free on iOS and Android.[2]
The main version of RuneScape will not be available to play on mobile until 2018. Old School RuneScape will be available to play from Winter 2017. Old School Mobile will be released before the main game because it is easier to port the game to mobile due to it using a smaller engine.[3]
Players can sign up to express their interest in joining a beta test for RuneScape Mobile.[4] Over 150,000 players had registered their interest in the betas before 19 July 2017. The closed beta for Old School RuneScape is expected to start in Q4 2017.[3]
RuneScape Mobile will allow players to play both RuneScape and Old School RuneScape on their mobile devices. It will work cross-platform with players on PC, and players will be able to play using the same characters as they do on their desktop clients.[5]
Microtransactions will be accessible in the same way that they are on PC, and no microtransactions will be available for Old School RuneScape. Players will be able to access Solomon's General Store and purchase Treasure Hunter keys or bonds.[3]
The apps will have suspend and resume support which will keep players logged in but idle (for as long as they would be in the desktop version) if the player switches to another app, e.g to take a phone call. Additionally, audio that is playing from other apps will continue to play while the game is open, though the player can choose to listen to the in-game music instead.[3]
Major development on a mobile client for RuneScape began sometime between March and April 2017. Jagex decided that it was the right time to start work on a mobile client because of player lifestyle changes such as having to go to work or to college. They note that they are trying to "make the games as accessible as possible" and appeal to new players.[3]
In May 2017, Jagex invited a number of content creators and streamers to their headquarters in Cambridge, UK. During this time, they had the opportunity to test an early build of RuneScape Mobile and their response to it was positive.[3]
References
Edit
Engine
Products
Mobile client
Performance
Graphics
Servers
Ad blocker interference detected!
Wikia is a free-to-use site that makes money from advertising. We have a modified experience for viewers using ad blockers

Wikia is not accessible if you've made further modifications. Remove the custom ad blocker rule(s) and the page will load as expected.