RuneScape:Off-site/Twitter
Discuss

17
22,528pages
on this wiki
For discussion, see RuneScape talk:Off-site/Twitter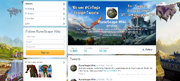 Welcome to the information article for the RuneScape Wiki Twitter Profile. The Wiki Twitter Profile was recognised in May 2010.
The RuneScape Wiki Twitter profile can be found at http://twitter.com/rswiki. We also have a new pages feed at http://twitter.com/rswiki_feed.
Overview
The Wiki's Twitter account is used to send out announcements and answer questions about the wiki or RuneScape. It is currently managed by wiki administrators.
How to get involved
To get involved, e-mail MarkvA or any other user that has Twitter access, and request access to the account. After applying, you will receive the password.
For account moderators
Please remember the following when taking administrative action on the profile:
Always use your CoTag when posting;
Don't make any unnecessary Tweets;
Don't change the settings in the menu;
Be sure not to follow any other Twitter accounts except for Fansites or official Jagex twitter accounts.
It is suggested to use Tweetdeck rather than twitter.
Moderators
Below are the current Twitter moderators as well as their common "CoTag" (signature). Please report possible abuse of power on the discussion page.
There are currently 3 account moderators.