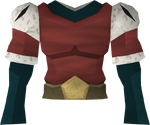 The royal shirt is possible loot from a kingly impling jar. It is part of the royal set, and serves a purely decorative purpose. It has no defensive bonuses. In the first weeks after its release it was considered a very rare loot from kingly impling jars. After a period, the Royal shirt, (along with all the other Royal items except for the royal crown) became buyable on the Grand Exchange. The royal set was released on 22 February 2010, accompanying the release of the kingly impling. The kingly impling requires level 91 Hunter to catch. Kingly implings may be found at Puro-Puro and throughout RuneScape, mainly in jungles.
The royal set can be stored in the armour case in the costume room of a player-owned house.
Combat Stats
Requirements
Tier
None
None
Class
Slot
Attributes
None
Armour
0
Life points
0
Weapons
Main
Off
Prayer
0
Damage
-
-
Damage reduction
Accuracy
-
-
PvM:

0%

PvP:

0%

Style
-
Style bonuses
Range
-

0

0

0

[FAQ] • [doc]
Drop sources
Edit
This list was created dynamically. For help, see the FAQ.
To force an update of this list, click here.
For an exhaustive list of all known sources for this item, see here.
Disassembly
Edit
All items of the royal set are equally rare loots from a kingly impling jar.
Ad blocker interference detected!
Wikia is a free-to-use site that makes money from advertising. We have a modified experience for viewers using ad blockers

Wikia is not accessible if you've made further modifications. Remove the custom ad blocker rule(s) and the page will load as expected.