Royal cape
Discuss

3
22,518pages
on this wiki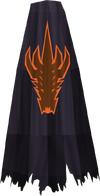 The Royal cape is a thick, dark cape with the motif of a dragon's head on it. It is dropped by any of the three stages of Grotworm which can be killed without completing the quest Song From the Depths. All grotworms have the same drop rate for the cape, making it best to kill young grotworms to receive the cape.
The symbol on the cape appears to be the Queen Black Dragon's head, who you encounter during the Song from the Depths. The cape is marked with eight eyes, a trait unique to the Queen Black Dragon.
The cape does not have any combat bonuses, which makes it purely cosmetic. It cannot be stored on a cape rack in a player-owned house.
Combat Stats

| Class | Slot |
| --- | --- |
| None | |

Weapons
Main
Off
Damage
-
-
Accuracy
-
-
Type
-
-
Attributes
Armour rating

0

Life bonus

+0

Prayer bonus

0

Critical bonuses

0%

0%

0%

Compare item

A player wearing a royal cape

[view] • [talk]
Dropping Monsters
Edit
The name Royal is possibly referring to the royalty of the Queen Black Dragon, and is most likely celebrating the introduction of the Queen Black Dragon to the game.
The head is red in the inventory icon and when wearing it, but turns orange when the cape is dropped.
Regular capes

Cape (black) • Cape (blue) • Cape (green) • Cape (orange) • Cape (pink) • Cape (purple) • Cape (red) • Cape (yellow)

Combat capes

Cape of legends • Fire cape • Moonclan cape • Lunar cape • Obsidian cape • TokHaar-Kal • Saradomin cape • Zamorak cape • Guthix cape • Spirit cape • Soul Wars cape (red) • Soul Wars cape (blue)

Capes of Accomplishment(m)

Agility • Attack • Constitution • Construction • Cooking • Crafting • Defence • Dungeoneering (Master) • Farming • Firemaking • Fishing • Fletching • Herblore • Hunter • Magic • Mining • Prayer • Ranging • Runecrafting • Slayer • Smithing • Strength • Summoning • Thieving • Woodcutting • Quest point

Capes of Distinction(m)

Classic cape • Veteran cape (5 year)10 year • Max cape • Completionist cape • Milestone capes(10)(20)(30)(40)(50)(60)(70)(80)(90)

Cloaks

Ardougne cloak(1)(2)(3)(4) • Fremennik cloak • Ghostly cloak • H.a.m. cloak • Warlock cloak • Witch cloak • Web cloak • Mourner cloak • Saradomin cloak • Zamorak cloak • Guthix cloak • Armadyl cloak • Bandos cloak • Ancient cloak • Clan cloak • Hati cloak • Hallowed cloak • Unhallowed cloak

Drapes
Non-combat, quest- and minigame-related capes

Eagle cape • Firecape • Spottier cape • Herald cape • Wicked cape • Cape of Validation • Monkey cape • Royal cape • Dragon ceremonial cape

Castle Wars(m)

Saradomin cloak • Zamorak cloak • Saradomin team cape • Zamorak team cape • Flag cape • Kills cape • Hobbyist cape • Enthusiast cape • Professional cape

Miscellaneous objects

Ava's attractor • Ava's accumulator • Ava's alerter • Bonesack(e) • Diving apparatus • Rambler's backpack