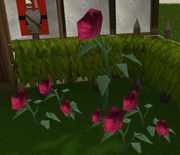 Roses are flowers that can be planted in the Formal Garden of a player-owned house with the Construction skill. Currently there are no uses for these flowers, other than for decorative purposes, though planting will grant the player 122 Farming and Construction experience.
Planting roses requires at least 76 Construction, bagged roses and a watering can.
Rose seeds can be found in the Monastery near the wilderness.
Seeds

Marigold seed • Rosemary seed • Nasturtium seed • Woad seed • Limpwurt seed • White lily seed

Farmed flowers

Marigolds • Rosemary • Nasturtiums • Woad leaf • Limpwurt root • White lily

Others

Mithril seeds • Flowers • Trollweiss • Lavender • Stinkbloom • Tansymum • Star flower • Exotic flower • Lily of the valley • Sunflower • Daffodils • Roses • Bluebells
Centrepieces
Fountains
Small/Big plants (1)
Small/Big plants (2)
Hedges

Thorny • Nice • Small box • Topiary • Fancy • Tall fancy • Tall box

Fences

Boundary stones • Wooden • Stone wall • Iron railings • Picket fence • Garden fence • Marble wall