Roddeck
Discuss

5
22,529pages
on this wiki

Roddeck is a non-player character who currently resides in Lumbridge, and can be found in the building directly north of the musician.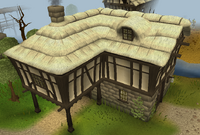 He was the leader of the mysterious group that ran the Cryptic Clue Fest for Thanksgiving 2009. He states that he "had too much time on his hands" and devised a series of clues for adventurers to follow. The "links in the chain" were caused by other NPCs reading his notes, has was forced to enlighten them on his plot.
After completion of the Cryptic Clue Fest III in July 2011, he will also give you the rewards for Cryptic Clue Fest II if it was not completed the previous year. He will also give you his rewards after Cryptic Clue Fest IV.

Roddeck owned and raised the Red Dragon from the discontinued quest Unstable Foundations, though he didn't seem to have nearly as much control over the dragon as players with 99 Summoning do. However, players only have baby dragons and Roddeck confessed that he lost control as it grew.
He is featured in the Cryptic Clue Fest II in 2010.
He sports a hairstyle that isn't available to players in-game.
Roddeck has brown eyebrows and white hair, which is an irregularity as normally a player's or NPC's hair color matches their eyebrows.
He was one of the first NPCs to be given a voice, although he was only voice acted during the now discontinued quest Unstable Foundations.
Roddeck used to give advice via the Advisor System and could be contacted from anywhere by clicking on a "question mark" button at the upper-right corner of the screen, his advice was mainly for beginners such as explaining how logs can be burned.