Rod of ivandis
Discuss

9
25,227pages
on this wiki

The Rod of Ivandis is created by players and is used to stun Vampyre juvinates and Vampyre juveniles. The rod is used to finish the In Aid of the Myreque quest. The rod is a component of an Ivandis flail, made during and after the Legacy of Seergaze quest.
This weapon was used by the legendary Saradominist Ivandis Seergaze, who helped in an assault against Lord Drakan. The original rod, wielded by Ivandis Seergaze himself, can be found sealed onto the lid of his coffin.
The Rod of Ivandis has 10 charges (charges cannot be used due to the removal of Special attacks) and is made by using a sapphire-enchanted silvthrill rod on the well in the Saradomin Shrine from which water from the River Salve is drawn (make sure you have a rope in your inventory). It is only possible to make this staff during and after In Aid of the Myreque quest.
Making the Rod of Ivandis
Edit
To create the Rod of Ivandis, players must first use soft clay on the coffin found in the cave behind the Canifis bar, in the first cave entrance beyond the wall, to make the mould. Then, players must acquire a Sapphire, a Mithril bar, and a Silver bar, and craft them together in any furnace, granting 55 Crafting experience. The resulting item will be a Silvthrill rod, which must be enchanted with Enchant Level 1 Jewellery, and then dipped into the well within the Saradomin Shrine with a rope.
Before EoC, It was possible to forget to have a sapphire in your inventory, and still make an item called a Silvthrill rod. The sapphire could not be added afterwards, and the rod would have no use. It was a total waste of resources, as the new item also had High and Low Alchemy values of 0 coins.
Combat Stats

Skill requirements
None

| Class | Slot |
| --- | --- |
| Melee | |

Weapons
Main
Off
Damage
223
-
Accuracy
202
-
Style
Stab
-
Attributes
Armour rating

0

Life bonus

0

Prayer bonus

0

Critical bonuses

0%

0%

0%

Attack speed

Average

Interval: 3.6 seconds

Compare item

A player wielding the Rod of Ivandis

[view] • [talk]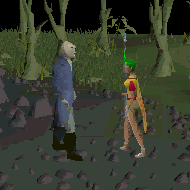 Before the Evolution of Combat, this weapon used to have a special attack called Retainer. It would freeze a Vampyre juvinate which had less than 1/2 of its health remaining. Each use of the special attack would use up a charge. Once all 10 charges had been used, the Rod of ivandis disintegrated into Rod dust. This dust is now a discontinued item and has no known use.
Rods with less than 10 charges are discontinued items, as charges can no longer be used.
Once the Rod of Ivandis has 2 charges remaining, the Examine text changes to become "2! 2 charges left! Ha Ha Ha." This is most likely a reference to Count von Count of Sesame Street .
Staves
Battlestaves

 Battlestaff •  Air •  Water •  Earth •  Fire •  Lava •  Mud •  Steam

Mystic staves
Skeletal staves
Skeletal battlestaves
Necromancer's staves
Dungeoneering staves

 Air empowered •  Water empowered •  Earth empowered •  Fire empowered •  Catalytic empowered, celestial •  Doomcore •  Law •  Nature •  Gravite •  Chaotic

God staves
Talisman staves

 Runecrafting •  Air •  Mind •  Water •  Earth •  Fire •  Body •  Cosmic •  Chaos •  Nature •  Law •  Death •  Blood •  Omni

Animal staves
Croziers
Runic staves
Game card

 Lightning staff 1 •  Lightning staff 2 •  Lightning staff 3 •  Lightning staff 4

Other staves

 Ahrim's •  Ancient Enhanced •  Blisterwood •  Broken •  Caitlin's •  Dominion •  Dragon battlestaff •  Dramen •  Iban's •  Lunar •  MindspikeTower •  Penance trident Master •  Pharaoh's sceptre Sceptre of the gods •  Polypore •  Rod of ivandis •  Sacred clay •  Skull sceptre •  Slayer's •  Staff of armadyl •  Armadyl •  Staff of light •  StarfireStarfury •  Third-age druidic •  Toktz-mej-tal •  Wizards' Tower •  Zuriel's corrupt
Melee Weapons

 Dagger •  Hatchet •  Mace •  Claw(m) •  Sword •  Longsword •  Scimitar •  Spear(m) •  Warhammer •  Battleaxe •  Two-handed •  Halberd(m) •  Hasta(m) •  Pickaxe

Ranged weapons/ammo

 Crossbow(m) •  2h crossbow(m) •  Bolts(m) •  Arrows •  Brutal arrows(m) •  Darts(m) •  Javelins •  Throwing axe(m) •  Throwing knife(m)

Off-hand weapons

 Battleaxe •  Claw •  Crossbow •  Dagger •  Dart •  Knife •  Longsword •  Mace •  Scimitar •  Sword •  Throwing axe •  Warhammer

Armour

 Helm •  Full helmet •  Square shield •  Kiteshield •  Chainbody •  Platebody •  Plateskirt •  Platelegs •  Boots(m) •  Gloves(m) •  Gauntlets •  Defender(m)

Others(m)

 Arrowtips •  Blessed hatchet •  Rod of ivandis •  Ivandis flail •  Broken axe (d) •  Broken pickaxe(d) •  Ore •  Bar •  Nails •  Grapple tip •  Grapple (unf) •  Grapple

(m) stands for members-only items. (d) stands for discontinued items.