The North is spoken of by many Mahjarrat as a place to which they are heading to perform the "Ritual".
The north and the ritual are connected with a "syzygy", which is a real-world term for an astronomical alignment[1]. Many quests reference the Ritual as a ceremony in which one Majaharrat is killed to replenish the energies of the rest, which seem to deplete to the point where missing two Rituals may be lethal (as seen by the condition of Jhallan). These quests include Tale of the Muspah, and this is hinted at in The Curse of Arrav. An explanation of how the ritual occurs is given in Postbag from the Hedge 41.
During The Tale of the Muspah, it is revealed to be located in an area north-east of Trollweiss Mountain and west of the Frozen Waste Plateau, that can be travelled to the Rellekka Hunter area. Zemouregal's fort may also be in The North, as revealed in The Curse of Arrav. Ghorrock, located west from the Wilderness Agility Course, may be a part of The North and can be reached during and after the The Temple at Senntisten Quest.
The Ritual of the Mahjarrat allows players to access the area of the ritual site, which is a large, expansive plane with the ritual stone in the center, and the entrance to the Glacor Cave to the south.
Ritual plateau
Edit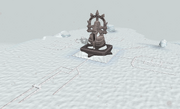 The ritual plateau is the location where the Ritual stone rests. The ritual stone is where, every 500 years, the planets align "Just right" for the ritual of rejuvenation - where a Mahjarrat is sacrificed to replenish the energy of the others of the race. A bloodwood tree grows here.
The Ritual of Rejuvenation
Edit
The North is the location of a ritual in which many of the Mahjarrat partake, to renew their energy and strengthen their power. Apparently throughout a Mahjarrat's life their energy begins to fade and so does their appearance when this time draws near.
Jhallan explains to an adventurer during The Tale of the Muspah that the life of one Mahjarrat must be sacrificed in order to complete the Ritual. A large battle between all Mahjarrat occurs and presumably the loser of that battle is the one who is sacrificed. Any Mahjarrat nearby during the Ritual will be rejuvenated even if they do not participate in the battle.
Jhallan is currently planning to exploit this ritual by hiding himself in the Mahjarrat Ritual Site Cavern. Before he goes into hibernation, Jhallan reveals that the ritual stone is located directly above the cavern. Jhallan gets sacrificed, despite his efforts.
References
Edit