Revenant knight
Discuss

39
27,291pages on
this wiki
Revenant knight
Release date
10 December 2007 (Update)
Members?
No
Combat level
119
XP per kill
1,163 (and 383.7 experience)
Always drops
Nothing
Examine text
A ghost of a knight slain during the God wars.
Slayer info
Slayer level
1
Slayer XP
143
Assigned by
Turael or Spria

Combat info
LP
Max hit
9,750
1,462
Attack
Defence
Ranged
Magic
85
85
85
85
Immune to
Poison?
Stun?
Deflect?
No
No
No
Attack Speed

Speed 5 (Interval: 3.0 seconds)

Aggressive?
Poisonous?
Yes
No
Attack styles
Weaknesses
Melee
Magic
Ranged
Salve amulet
Nothing
[view]
The Revenant knight is a type of Revenant found in the Forinthry Dungeon, and is the undead version of Saradomin knights. It has the highest combat level of all revenants, and is the strongest monster in free-to-play (excluding a very few high level bosses in Daemonheim). Revenant knights are far more dangerous than their combat levels suggest, though they are not as strong as a member of the same or slightly lower level and somewhat dangerous towards free players of their level.
Historically their combat level represented the old maximum player combat level of 126, which was still the maximum level in free-to-play worlds (before the Evolution of Combat update). They have very high defence for their combat level. Their max hit with melee and magic attacks is very high, and will frequently hit over 1000.
They also have very high defence and attack. Before the release of Summoning and the revenant dragon, the revenant knight was the most powerful revenant in the game. Then, after the release of the Evolution of Combat, the revenant dragon's combat level was lowered to 93, and the revenant knight once again became the most powerful of the revenants. However, a subsequent buff made the revenant dragon more powerful once more.
This revenant is rarely killed, as the other counterparts lower than it can drop the same things like it, although it does have a higher drop rate for revenant items than lower-levelled revenants, and the fact that it, along with the Revenant dragon can poison, which many players killing Revenants don't take antipoison. Very few players even solo this monster because of its location, which is quite close to the western entrance to the revenants, the common spot where PKers constantly arrive.
Warning: This revenant, along with all the other revenants, can attack every level, from 3 to 138. For this reason, a Forinthry brace is strongly recommended to make the revenants non-aggressive for a while. Also, other players can attack you as well, so be careful when going to the dungeon. It is recommended that you use Single-Way Wildereness so that only one NPC/player can attack you at a time. If you don't, and aren't careful, you may be piled by both revenants and PKers. However, it is in a corner, and will stay there the whole time, so players shouldn't worry unless they get too close to it.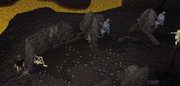 WARNING: The Forinthry Dungeon is a PVP-enabled area, meaning it is entirely possible for other players to attack you whilst fighting the revenants in the dungeon. Do not bring equipment that you are not willing to lose.
Brawling Gloves
Edit
Ancient artifacts
Edit
Other drops
Edit
Universal drops
Edit