Resource Race
Discuss

4
22,498pages
on this wiki
The Resource Race is a game available during the Gielinor Games, released on 24 July 2012. One may access it by entering the portal in Varrock Square.
It set on four islands, where the goal is to collect as many resources as possible in five minutes and load them into the starting islands deposit. Having an empty inventory would be a very good idea.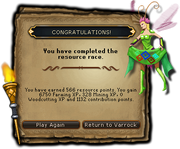 There are three islands in conjunction with the starting island. The islands are skill specific, with the skills being Woodcutting, Mining and Farming. The resources are colour coded for skill level needed to gather them.
For the same level, herbs are gathered much quickly than logs once the first batch is planted. Players may take five seeds of the same type from the seed sacks in the middle of the Farming island. Players may plant five seeds, simply wait for the first batch to grow - it only takes around 20 to 43 seconds to grow, depending on colour.
The herbs do not seem to get diseased.
Points are only given when the resources are deposited. Resources in the player's inventory does NOT count towards points. Always leave 9 seconds for depositing near the end.
| Colour | Level required | Resource Points | Farming XP | Herb growing time | Mining XP | Woodcutting XP |
| --- | --- | --- | --- | --- | --- | --- |
| Blue | 1 | 1 | 2.5 | 20 seconds | 18 | 27 |
| Gold | 20 | 3 | 15 | 28 seconds | 41 | 50 |
| Black | 40 | 5 | 35 | 34 seconds | 67 | 95 |
| Green | 60 | 7 | 67 | 39 seconds | 87 | 177 |
| Red | 80 | 10 | 125 | 43 seconds | 115 | 250 |
The resources that can be obtained by mining are blue ore, gold ore, black ore, green ore, and red ore.

Note: the additional ores feature of Varrock armour does work here. Use it to your advantage! Also, there are three red ore rocks clustered relatively closely together on the right side - one can go between them with little to no time spent waiting for respawn, gathering a green ore if necessary for maximum points.

Resources that can be obtained by woodcutting are blue logs, gold logs, black logs, green logs, and red logs.
Resources that can be obtained by farming (m) are blue herbs, gold herbs, black herbs, green herbs, and red herbs.
There seem to be no bonus doing different tasks or getting different resources. The time spend running between resources would have a large negative impact on the score.
You can go back as many times as you wish, the XP you get alltogether seem to be maximized depending on your skill levels.
You always get two times of the resource points as contribution points, unless your contribution points would go over 2500. If your contribution points are 2500 or near, buy something or unlock next tier.
Maximizing Farming XP
A reliable method for maximizing Farming XP during the Resource Race activity is as follows:
When the activity begins, run to the sack containing seeds.
Take out 5 seeds of the highest color you can plant.
Plant one seed in each patch.
When you have finished planting all 5 patches, you will have to wait 10-15 seconds before the first patch is ready to harvest. Use this time to take another 10 seeds out of the sack. You will likely not need all of them, but get them just in case.
As soon as the first patch is ready to pick, begin harvesting. As you are harvesting, select the seed stack in your inventory.
When you see the plant disappear, quickly click the patch. This will let you re-plant the patch before you complete the harvesting animation and save time. This way, by the time you come back around to this patch, it will be fully grown.
Run quickly to the next patch. Continue harvesting and replanting in this fashion. When your inventory fills up, empty it into the deposit area. Try to do this when you are at one of the front two patches, even if your inventory is not completely full.
Around the middle of your second circuit of the five patches, start keeping an eye on the clock. You should have enough time to do two cycles and one or two more patches.
When the timer gets to around 0:20, angle your camera so you can click directly on the resource hopper. If one of the two patches nearer to the hopper can be harvested, start picking from it. This will place you closer to the hopper.
When the clock reaches 0:10, click on the resource hopper to make your final deposit just before time runs out. It takes about 7 seconds to make this run if you are in one of the front patches.
This method will reliably gain you 60+ herbs per game. This will allow you to hit your daily XP cap quickly.
Trivia
The 5 colors of the resources (blue, gold, black, green, and red) are the same colors as the olympic rings. They are also in the same order left to right.
Race delegates

Oomad Arrow • Mudfoot • Unuki • Sunnel • Larsa • Oluien • Mikael

Commentators
Gielinor Games

Head-to-Head • Cheese Wheel Rolling • Resource Race • Marathon

Gielinor Games Preparation

| | |
| --- | --- |
| Catering | Raisins • Tupelo honey • Bitter melon • Plum • Cinnamon • Ginger • Paprika • Filo pastry • Sour cream • Yoghurt • Rhubarb • Burned toffee • Mint • Nutmeg • Dandelion • Coffee beans • Raspberries • Pepper • Gielinor games food |
| Medals | |
| Construction | |

Rewards

Outfits

| | |
| --- | --- |
| Gold | Gold athlete's hat • Gold athlete's shirt • Gold athlete's legs • Gold athlete's gloves • Gold athlete's shoes • Gold torch • Herculean gold ring |
| Silver | Silver athlete's hat • Silver athlete's shirt • Silver athlete's legs • Silver athlete's gloves • Silver athlete's shoes • Exalted silver ring |
| Bronze | Bronze athlete's hat • Bronze athlete's shirt • Bronze athlete's legs • Bronze athlete's gloves • Bronze athlete's shoes • Victor's bronze ring |

Emotes (gold)
Titles (gold)