Redberries are items used for creating dyes and making Redberry pie. Even though they are food used in cooking, they cannot be eaten unless made into a pie. They are also used in making Ranging potions.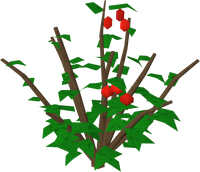 Store locations
Edit
This list was created dynamically. For help, see the FAQ.
To force an update of this list, click here.
Disassembly
Edit
Redberries take 2 minutes to respawn on the bushes south of Varrock.
Redberries are analogous to the real-life redcurrant.[1]
Redberries were used in Prince Ali Rescue to make a skin paste for the Prince. However, this quest has now been removed.
References
Edit
Pies
Raw Pies
Uncooked Pies
Parts of Pies
Ingredients
Allotment produce
Flower produce
Hops
Bush produce
 Redberries
 Cadava berries
 Dwellberries
 Jangerberries
 White berries
 Poison ivy berries
 Wishing well fruit
Tree produce
Fruit tree produce
Special produce
NPCs
Items
Locations
Music
Related
Ad blocker interference detected!
Wikia is a free-to-use site that makes money from advertising. We have a modified experience for viewers using ad blockers

Wikia is not accessible if you've made further modifications. Remove the custom ad blocker rule(s) and the page will load as expected.