Red chinchompa
Discuss

13
27,826pages on
this wiki
Red chinchompas are multi-target stackable Ranged weapons requiring level 55 to use. They can be obtained by box trapping carnivorous chinchompas in the Feldip Hunter area.
They are thrown like darts or throwing knives; however, they explode on impact. They can hit up to 9 targets in a 3x3 area. They cannot be picked up again from the ground after being thrown and Ava's devices (attractor, accumulator, alerter) do not return them.
Note that if a player dies with red chinchompas in their inventory or equipped, the chinchompas will disappear and cannot be retrieved.
Combat Stats

A player wielding a red chinchompa

Skill requirements
55
Class
Slot
Ranged
Weapons
Main
Off
Damage
673
-
Accuracy
983
-
Style
Thrown
Attributes
Armour
0
Life points
0
Prayer
0
Style bonuses

0

0

0

Attack speed
Fast

Interval: 3.0 seconds

[view] • [talk]
Chinchompa guide
Edit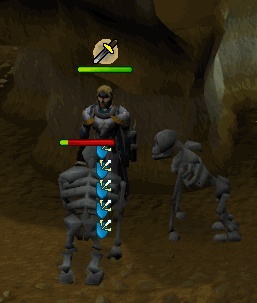 Before the Evolution of Combat update, red chinchompas were commonly used for training the Ranged combat skill. This method was very popular and it was common to see a single chinchompa cost more than 1000 coins.