Walkthrough
Edit
Start point

Inspect Awowogei sitting in Lumbridge Castle dining hall.
Member requirement
Members only
Official difficulty
Experienced
Length
Medium to Long (~33 minutes)
Requirements

Quests:

Items required
Items from the tool belt are not listed unless they do not work or are not automatically added.

Recommended:

A regular monkey greegree
Combat gear to fight against a few big snakes (level 84)
Several pieces of food (lobsters or higher)
A Surefooted aura if your agility level is lower than 75

Enemies to defeat
King Awowogei
Edit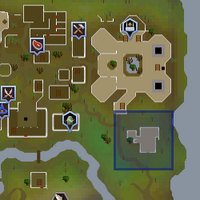 Obtaining the Ingredients
Edit
The Red Banana
Edit
Equip the gorilla greegree and find the red banana tree on the coast west of Marim.
When red bananas are visible on the tree, use a rope on it.

Note: The wise monkies will eat your bananas, therefore it is a good idea to collect three red bananas and slice two of them. Before talking to the wise monkeys, drop one of the slices.

Talk to the three wise monkeys.
Tchiki Nuts
Edit
Talk to the three wise monkeys again.
Equip the ninja greegree and head south to the Ape Atoll Agility Course.
Proceed through the course until reaching the hole right after the rope swing.
Enter the hole and pick a monkey nut from the bush.
Grind it with a Pestle and mortar.
Note: The wise monkies will eat your Tchiki Nuts; therefore it is a good idea to pick more than one, and dropping one before talking to the wise monkies.
Climb up the rope and finish the course.
Talk to the three monkeys.
The Snake
Edit
Talk to the three monkeys.
Head to Crash Island and enter the pit east of Lumdo.

Note: It is useful to turn on Protect from Melee before entering the pit and also having an emergency teleport.

Kill a snake to get a Snake corpse.

Note: As with the bananas and nuts, it is wise to get more than one corpse in the event of burning the dish.
Freeing King Awowogei
Edit
If below 70 Cooking, make sure to have the boost at this part.
Use the red banana slices and tchiki monkey nut paste on the snake corpse.
Talk to the wise monkeys.
Equip the zombie greegree and enter the trapdoor near the eastern wall of the temple.
Walk down the wooden platform and Enter the crack on the wall, called "Exit".
Walk across the coals and Use the snake on the long rock.
Head to Lumbridge Castle and give the Stuffed snake to King Awowogei.
Subquest complete!
Ad blocker interference detected!
Wikia is a free-to-use site that makes money from advertising. We have a modified experience for viewers using ad blockers

Wikia is not accessible if you've made further modifications. Remove the custom ad blocker rule(s) and the page will load as expected.