Realms, also known as Dimensions, Planes, Worlds, and (though rarely) Universes are isolated pockets of existence within the multiverse. Each universe exists within an empty region known as The Void, and each universe is separated by a variety of barriers, the most universal of which is the Abyss. It appears that worlds such as Gielinor  and Zanaris are seperated by space (as shown in the Origins of Gielinor video) and the Abyss is merely used to travel quickly between them.
Although realms are typically physically separate from each other, various realms have been connected via a number of means, both naturally occurring and artificially devised.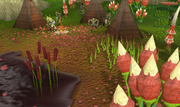 Below is a list of realms in which either are accessible or are known by players: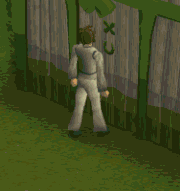 Binding Realms
Edit
The one true binding dimension is the Abyss. The Abyss is the area that is traveled through when teleporting as proved in the Lost and Found random event. This means that The Abyss may connect all realms together. In the centre of the Abyss is the Abyssal Rift near which a Dark Mage is deep in concentration. The Abyss can be accessed during the Lost and Found random event, using fairy ring code ALR after starting Fairytale II - Cure a Queen, or after completing the Mage of Zamorak miniquest.
Another possible binding realm may be the Void. The Void is the separation of all the dimensions. The Void is nothing but empty white coloured space. The Void can be seen on the edges of the screen when in the Spirit Realm and is briefly visited during the Summer's End quest.
Lesser-known realms
Edit
I have oft heard rumours that spirits from other dimensions do stake a claim upon this one, for reasons of their own. Having no form of their own, they take control of citizens from this world and control them for their own amusement, even going so far as to force them into slaughtering innocent men and women for the greed of what ever possessions they may drop upon their death, or even just for the sheer fun of it. It doth sound like thou hath mayhaps been possessed by one of these strange and often malicious spirits, and that it hath left after images of its own life from its own dimension upon you... I suggest thee dwell not on whatever malignant thoughts thou might hath been left with, for the dimensions that such spirits come from are often places of great hardship, far removed from the tranquil land of Gielinor.

— Guthix
It should be noted that the Rune essence mine, though secluded from the rest of RuneScape and accessible only through a certain teleportation spell, is nevertheless a part of Gielinor (unlike the Runecrafting Altars or Guild), located in the ice fields of the North.