Walkthrough
Edit
Start point
Talk to Gertrude west of Varrock.
Member requirement
Members only
Official difficulty
Intermediate
Official length
Long
Requirements
Skill requirements are not boostable.

Quests:

54 Herblore (if you want to make your own rat poison)

Items required
Items from the tool belt are not listed unless they do not work or are not automatically added.
Enemies to defeat
Starting out
Edit
Talk to Gertrude.
Take out your cat or kitten.
Talk to Phingspet and Grimesquit in the Varrock Sewers.
Catch 8 rats with your cat/kitten.

The "Hide familiar options" setting must be off in Gameplay settings

Talk to them again.
Just the Ticket
Edit
Talk to Jimmy Dazzler in a house north of the doors connecting west and east Ardougne.
Read the directions scroll he gives you.
Breaking In
Edit
Avoid guards whilst traversing throughout.
Hide at the hedges directly west of the mansion when the southwest guard walks toward the bridge.
Run to the north-west corner when the guard is behind the hedges.
Run to the hedges directly north of the mansion.
Climb up the nearby trellis.
Once inside continue to avoid guards.
Wield your rat pole.
Catch 1 rat in the north-west room.
Catch 2 rats in the south-east room.
Go down the ladder in this room.
Catch 2 rats in this room, then 1 in the room to the north.
Return to Jimmy Dazzler.
Hooknosed Jack
Edit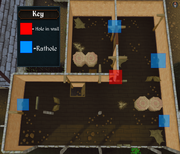 Talk to Hooknosed Jack in south-east Varrock.
Enter the south-west house and climb the ladder.
Use rat poison on all 4 pieces of cheese.
Use poisoned cheese on all of the rat holes.
Return to Jack.
Talk to the Apothecary in western Varrock for cat antipoison.
Return to Jack.
Go back to the warehouse and up the ladder.
Pick up your cat and use it on the hole in wall.
Use a fish on the hole in wall to restore its health.

You lose your cat if it dies here.
If you lose your cat by going down the ladder, you can call your follower.

Retrieve your cat by calling your follower.
Return to Jack to tell him the king rat is dead.
Smokin' Joe
Edit
Talk to Smokin' Joe in east Keldagrim, just east of the pickaxe shop.
Use some weeds on an empty pot and light it.
Use the smoldering pot on the rat hole near the crates.
Try again with your cat out and your catspeak amulet on, your cat will offer to help.
Talk to Joe again.
The Face and the Felkrash
Edit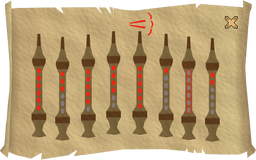 Talk to a woman named The Face, north of Port Sarim lodestone.
Talk to Felkrash, who is nearby.
Talk to The Face again.
Head south of the bar in Pollnivneach.
Use a coin with Ali the Snake Charmer's Money Pot. , walk away slowly , followed by Stop (unless wearing ring of charos).
Go back to Port Sarim to where Felkrash is standing.
Play the snake charm:

Only 1 note can be set per page.
Go through the pages and click the correct notes.
Don't forget to click the icon in the top left on page 5.
Click PLAY once all 8 pages are set.
There will be short cutscene upon completing correctly.

Talk to Felkrash.
Quest complete!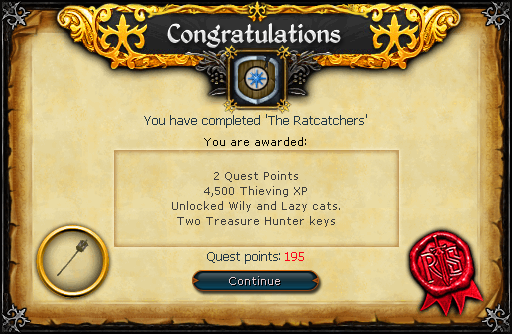 4,500 experience
The ability to name a lazy or wily cat (up to 6 letters long)
2 Treasure Hunter keys and 2 Hearts of Ice

Music unlocked