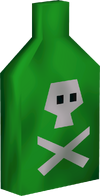 Rat poison is used in the Clock Tower and Ratcatchers quests. During Clock Tower, it can be found in the north-western (white) section of the Clock Tower dungeon. During Ratcatchers, it can be made by providing the proper ingredients (vial, red spider eggs, and clean kwuarm) to Hooknose Jack.
Disassembly
Edit
NPCs
Items
Rewards
 Rat pole
Locations
Music
Miscellaneous
Ad blocker interference detected!
Wikia is a free-to-use site that makes money from advertising. We have a modified experience for viewers using ad blockers

Wikia is not accessible if you've made further modifications. Remove the custom ad blocker rule(s) and the page will load as expected.