Rat's letter is a members-only quest item used only in What Lies Below quest. It is obtained from Rat Burgiss after the player returns a Full folder to him. It must be delivered to Surok Magis. Initially, the letter appears to be in a strange, coded language. Upon closer inspection, one can tell that it is just heavily stylized letters of the English language.
Transcript
Edit
Surok Magis,
Your actions are being watched. We know what you are trying to do and the VPSG will stop you! Do not attempt to leave the palace or you will be arrested on sight. We will not hesitate to kill you if you disobey King Roald's orders.
Rat Burgiss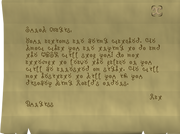 Disassembly
Edit
NPCs
Enemies
 King Roald
Items
Locations
Music
Related
Ad blocker interference detected!
Wikia is a free-to-use site that makes money from advertising. We have a modified experience for viewers using ad blockers

Wikia is not accessible if you've made further modifications. Remove the custom ad blocker rule(s) and the page will load as expected.