Rantz's cave is a cave in which Rantz and his children Fycie and Bugs live. It's located in the eastern part of the Feldip Hills. The cave is featured in the Big Chompy Bird Hunting quest. It's located north of the fairy ring with the code AKS.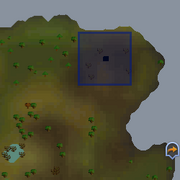 NPCs
Enemies
Items
Rewards
 Ogre bow
Locations
Rantz's cave
Music
Miscellaneous
Ad blocker interference detected!
Wikia is a free-to-use site that makes money from advertising. We have a modified experience for viewers using ad blockers

Wikia is not accessible if you've made further modifications. Remove the custom ad blocker rule(s) and the page will load as expected.