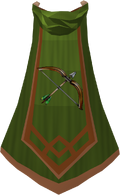 The Ranged master cape is the cape awarded for achieving True skill mastery in Ranging. Its appearance is different from regular skillcapes. Unlike Dungeoneering, Slayer and Elite skills, the skill cap for Ranging is 99; true skill mastery is awarded for achieving a virtual level of 120 (104,273,167 experience) while the stat does not actually go beyond 99. It was also revealed that the new master capes will not have a unique emote. The cape is sold by Armour Salesman for 120,000 coins.
Master capes were voted on in a Power to the Players, where the option to add them won with 63%.
Combat Stats
Requirements
120
Class
Slot
All
Tier
75
Weapons
Main
Off
Damage
-
-
Accuracy
-
-
Style
-
Range
-
Attributes
Damage reduction
Armour
33
PvM:

0%

PvP:

0%

Life points
0
Style bonuses
Prayer
2

21

21

21

[FAQ] • [doc]
The Ranged master cape's perk provides the ability of an Ava's device to automatically pick up fired ammunition in combat and place it back into the quiver. This effect only works when the cape is equipped. See Ava's attractor for more details. The cape will not provide any of the other uses of an Ava's device. All Capes of Accomplishment can be added to a max cape, completionist cape, or trimmed completionist cape, after which players may choose to enable up to three perks.
Store locations
Edit
This list was created dynamically. For help, see the FAQ.
To force an update of this list, click here.
Currently, 13,299 people are able to own this cape (as seen on the highscores).