Randas is a hero mentioned in Spirit of the Pass, a story in the RuneScape website Lores and Histories section. The Wise Old Man in Draynor Village also speaks of him.
According to the Spirit of the Pass, Randas travelled to the Underground Pass beneath the Arandar mountain range and was tempted by Zamorak.[1] He apparently heard voices which turned into visions. He performed a ritual that would supposedly alter his spirit. He chanted some ancient words, and the spirit of Zamorak began to enter his body. Unable to bear the power of Zamorak, he lost his mind.
Randas still wanders around the Underground Pass. Lore says that when asked about Zamorak, he will relate his life story, and elaborate on the ritual he performed. Although the Lores and Histories article pertaining to Randas implies he may be found in the Pass, he doesn't seem to appear in-game. Whether this is because no one has found him or he actually does not exist, it is not certain.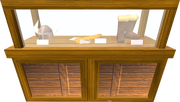 His boots may be found in a display case in the outpost North-west of Ardougne after completion of the Making History quest.
References
Edit
^ Wise Old Man, RuneScape. "Randas was another great man, but he let himself be beguiled into turning to serve Zamorak."

*