Ramokee deathslinger
Release
2 November 2010 (Update)
Members
No
Examine
A former gorajo, exiled for an unspeakable crime.
Combat info
Level
LP
XP
XP
28
1,000
44.4
14.6
Equipment XP (2H/MH & Armour/OH)
2 / 1 / 0
Aggressive
Poisonous
Offensive
Max hit
0
120
0
0
Style
Speed

6 ticks (3.6s)

Combat levels
Defensive
Armour
Weakness
316
20
Affinities
90
65
55
45
Immunities
? (edit)
? (edit)
? (edit)
[FAQ] • [doc]
The Ramokee deathslinger is a monster found in Daemonheim, encountered in the Dungeoneering skill. The Ramokee deathslinger, similar to the Mercenary leader, is always found in a room with at least one Guardian door. It is found in a room with a Ramokee stormbringer, a Ramokee skinweaver, and a Ramokee bloodrager.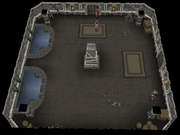 All floors
Frozen floors
Abandoned floors
Furnished floors
Occult floors
Warped floors
Bovimastyx
Slayer
Puzzle room
Ramokee deathslinger
Boss room
Ad blocker interference detected!
Wikia is a free-to-use site that makes money from advertising. We have a modified experience for viewers using ad blockers

Wikia is not accessible if you've made further modifications. Remove the custom ad blocker rule(s) and the page will load as expected.