Qutiedoll is a non-player character and player spoof, who is one of the victims of the Wise Old Man during the Draynor Bank Robbery. During the robbery he is seen as combat level 16 wearing a pair of Bunny ears. He makes three other appearances, including a cutscene in My Arm's Big Adventure, a cutscene in Salt in the Wound along with Elfinlocks and 1337sp34kr, and in Lletya while using the Gnomecopters. In Lletya however, he is combat level 99 with an untrimmed Fletching cape. It is no longer possible to see him in Lletya with the removal of gnomecopters.
He later appears in Daemonheim with Elfinlocks and 1337sp34kr during a cutscene in the quest, Salt in the Wound.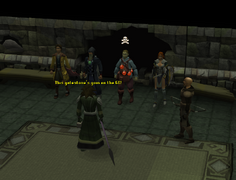 Combat Academy
Draynor Bank Robbery
Qutiedoll
The Elder Kiln
Vengeance
Other
NPCs
Items
Locations
Music
Miscellaneous
Ad blocker interference detected!
Wikia is a free-to-use site that makes money from advertising. We have a modified experience for viewers using ad blockers

Wikia is not accessible if you've made further modifications. Remove the custom ad blocker rule(s) and the page will load as expected.