The Quest kit (elite) is a reward from the Mobilising Armies minigame, and can only be bought with rank 300 or higher. It can be used to store items in that are often used for quests to save inventory space.
They can be purchased from Lord Marshal Brogan on the second floor of the Officer Tower, for a price of 267,700 Reward Credits. It may also be sold back for 214,160 Reward Credits, 80% of its original price.
It can hold: Rope, tinderbox, spade, needle, pestle and mortar, steel pickaxe, thread, bucket, bowl, bullseye lantern, machete, knife, waterskin, plank, hammer, saw, steel hatchet, and a chisel.
New quests have the tendency to provide players with the required materials. In addition, the release of the tool belt has made this item almost obsolete. This quest kit only has the benefit of seven items: Rope, thread, bucket, bowl, bullseye lantern, waterskin, and plank. Players must decide if these extra items are worth the high cost of the kit.
(Note: Converting your Sacred Clay Proto Tool into a needle, hatchet, hammer, knife or pickaxe will NOT allow you to carry it in the Quest Kit. In addition, no other hatchet or pickaxe other than steel and no machete other than the regular machete will fit in this quest kit.)
Every time you complete a game of Mobilising Armies, the kit replaces any used items.
The value of all the items in the kit is 9,081 coins.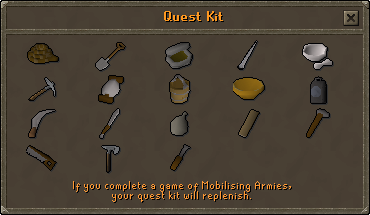 Store locations
Edit
This list was created dynamically. For help, see the FAQ.
To force an update of this list, click here.
Disassembly
Edit
Ad blocker interference detected!
Wikia is a free-to-use site that makes money from advertising. We have a modified experience for viewers using ad blockers

Wikia is not accessible if you've made further modifications. Remove the custom ad blocker rule(s) and the page will load as expected.