The Quest kit (basic) a reward from Mobilising Armies. You can only have one kit at a time. It has the ability to hold items that are commonly used in quests. This item is similar to the Rogue kit but stores one of each item instead of turning into it. It can hold rope, a tinderbox, a spade, a candle, a needle, and a pestle and mortar. It can be used during quests to save inventory space. Every time you complete a game of Mobilising Armies, the kit replaces any used items. It is banned on Entrana although it contains no items that can be used for fighting. The addition of the tool belt has made this item useless, as the spade, tinderbox, needle, and the pestle and mortar can all be added to the tool belt. Although the candle can't be stored in a tool belt, simply carrying a single candle would take up as much inventory space as a quest kit with a candle inside.
Converting your Sacred Clay Proto Tool into a needle will not allow you to carry it in the Quest Kit.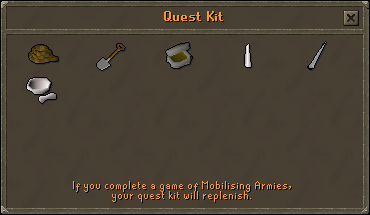 Store locations
Edit
This list was created dynamically. For help, see the FAQ.
To force an update of this list, click here.
| Seller | Cost | Currency | Base stock | Members? |
| --- | --- | --- | --- | --- |
| Serjeant Cole | 61,900 | Credits | ∞ | Yes |
Disassembly
Edit
Ad blocker interference detected!
Wikia is a free-to-use site that makes money from advertising. We have a modified experience for viewers using ad blockers

Wikia is not accessible if you've made further modifications. Remove the custom ad blocker rule(s) and the page will load as expected.