Quest point cape
Discuss

40
22,528pages
on this wiki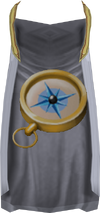 A quest point cape can be purchased for 99,000 coins alongside the Quest point hood from Wise Old Man in Draynor Village by players who have achieved the current maximum number of quest points. As of 4 March 2013, the maximum is 342 Quest Points. It is the only Cape of Accomplishment not associated directly with a skill. As such, it can neither be trimmed nor be used to trim other capes. Quest point capes are bluish white in colour with cyan shoulder pads.
When new quests are released, raising the quest point maximum, the cape will become unequipped and owners of the cape will have to complete the new quests before being allowed to wear it. When unequipped (after a new quest) the cape and hood will go into the player's inventory if there is enough room, or into the player's bank. If there is neither room in the player's inventory nor in the player's bank, the cape will find its way to the Wise Old Man, who can give it back to the player free of charge.
Prior to an update on 10 August 2009, The Rag and Bone Man wishlist miniquest must also have been completed in order for a player to achieve this cape. As of now, only the quest itself need be completed in order to obtain the quest cape. However, to get a 100% circle in your adventurer's log, this miniquest is required.
Earning the right to wear the Quest Point Cape at present requires roughly of 28,400,000 experience, (or less if you use items to boost certain skill levels for quests, with a minimum of 26,800,000), which is more total experience than a trimmed skillcape. It should be noted that although this total does include combat related skills, higher levels may be required to complete quests involving some of the tougher bosses.
Jagex has added sound to the emote and some music that plays while the emote is being performed. Exactly when the music tune starts depends on the amount of players, lag and various other factors in the area.

Quest point cape emote sound.
(
link
)
Plays when performing emote.

The jingle that plays during the emote.
(
link
)
Plays when performing emote.
Combat Stats

| Class | Slot |
| --- | --- |
| All | |

Weapons
Main
Off
Damage
-
-
Accuracy
-
-
Type
-
-
Attributes
Armour rating

33

Life bonus

+0

Prayer bonus

2

Critical bonuses

2.0%

2.0%

2.0%

Compare item

A player wearing a quest point cape

[view] • [talk]
Minimum skill level
Edit
Minimum levels to wear the Quest point cape:
Total level: 1770*

78

76

76

78

77

80

80

70

75

74

70

76

74

80

70

76

67

70

67

65

50

----

162

342

30*
b
indicates that a temporary boost may be used to reach that level.
Highest skill requirements' quests
Edit
The quests requiring the highest skill levels, along with the levels required (without boosts) are:

The music that plays when you purchase a quest cape.
(
link
)
The cape's emote is the only Cape of Accomplishment emote to include its own music.
The Quest point cape can be spawned with the item Rotten potato. However, this item is only available to Jagex Moderators.
The Quest point cape is the only Cape of Accomplishment that can not be alchemised.
Without boosts, a minimum of 23,990,812 experience is needed to get the quest point cape, as opposed to the 13,034,431 experience needed to get a skillcape.
Regular capes

Cape (black) • Cape (blue) • Cape (green) • Cape (orange) • Cape (pink) • Cape (purple) • Cape (red) • Cape (yellow)

Combat capes

Cape of legends • Fire cape • Moonclan cape • Lunar cape • Obsidian cape • TokHaar-Kal • Saradomin cape • Zamorak cape • Guthix cape • Spirit cape • Soul Wars cape (red) • Soul Wars cape (blue)

Capes of Accomplishment(m)

Agility • Attack • Constitution • Construction • Cooking • Crafting • Defence • Dungeoneering (Master) • Farming • Firemaking • Fishing • Fletching • Herblore • Hunter • Magic • Mining • Prayer • Ranging • Runecrafting • Slayer • Smithing • Strength • Summoning • Thieving • Woodcutting • Quest point

Capes of Distinction(m)

Classic cape • Veteran cape (5 year)10 year • Max cape • Completionist cape • Milestone capes(10)(20)(30)(40)(50)(60)(70)(80)(90)

Cloaks

Ardougne cloak(1)(2)(3)(4) • Fremennik cloak • Ghostly cloak • H.a.m. cloak • Warlock cloak • Witch cloak • Web cloak • Mourner cloak • Saradomin cloak • Zamorak cloak • Guthix cloak • Armadyl cloak • Bandos cloak • Ancient cloak • Clan cloak • Hati cloak • Hallowed cloak • Unhallowed cloak

Drapes
Non-combat, quest- and minigame-related capes

Eagle cape • Firecape • Spottier cape • Herald cape • Wicked cape • Cape of Validation • Monkey cape • Royal cape • Dragon ceremonial cape

Castle Wars(m)

Saradomin cloak • Zamorak cloak • Saradomin team cape • Zamorak team cape • Flag cape • Kills cape • Hobbyist cape • Enthusiast cape • Professional cape

Miscellaneous objects

Ava's attractor • Ava's accumulator • Ava's alerter • Bonesack(e) • Diving apparatus • Rambler's backpack