Quest point cape
Discuss

42
27,132pages on
this wiki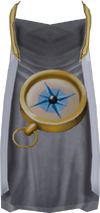 A
quest point cape
can be purchased for 99,000
coins
alongside the
Quest point hood
from
Wise Old Man
in
Draynor Village
by players who have achieved the current maximum number of
quest points
. If you have already completed the older version of a
quest
(e.g.
Black Knight's Fortress
which has been replaced by
The Death of Chivalry
), you don't have to complete the newer quest to get this cape. From
11 August
2014
, the maximum quest points are 357, with the most recent quest being Heart of Stone. It is the only
Cape of Accomplishment
not associated directly with a
skill
. As such, it can neither be trimmed nor be used to trim other capes. Quest point capes are bluish white in colour with cyan shoulder pads.
When new quests are released, raising the quest point maximum, the cape will become unequipped and owners of the cape will have to complete the new quests before being allowed to wear it. When unequipped (after a new quest) the cape and hood will go into the player's inventory if there is enough room, or into the player's bank. If there is neither room in the player's inventory nor in the player's bank, the cape will find its way to the Wise Old Man, who can give it back to the player free of charge.
Prior to an update on 10 August 2009, The Rag and Bone Man wishlist miniquest must also have been completed in order for a player to achieve this cape. Now only the quest itself need be completed in order to obtain the quest cape. 
With the release of the grandmaster quest Plague's End, the Quest point cape requires 36M+ experience which is equivalent to a level 110 skill or more than 2 level 99 skills combined (enough to trim quest cape theoretically).
Jagex has added sound to the emote and some music that plays while the emote is being performed. Exactly when the music tune starts depends on the number of players, lag and various other factors in the area.

Quest point cape emote sound.
(
link
)
Plays when performing emote.

The jingle that plays during the emote.
(
link
)
Plays when performing emote.
Combat Stats

Skill requirements
None

| Class | Slot |
| --- | --- |
| All | |

Weapons
Main
Off
Damage
-
-
Accuracy
-
-
Style
-
Attributes
Armour rating

33

Life bonus

0

Prayer bonus

2

Style bonuses

21

21

21

Compare item

A player wearing a Quest point cape

[view] • [talk]
Minimum skill level
Edit
The minimum levels required to wear the quest point cape are:
Total level: 1917
79
78
80b
85b
77
82b
80
75
70
75
75
70b
75
76
74
81
70
76
61b
76
65b
75
67
75
75
75
----
120
357
30
b
indicates that a temporary boost may be used to reach that level.
Highest skill requirements' quests
Edit
The quests requiring the highest skill levels, along with the levels required (without boosts) are:

The music that plays when you purchase a quest cape.
(
link
)