Queen Black Dragon/Strategies
Discuss

3
22,527pages
on this wiki
The Queen Black Dragon is the second strongest monster in all of RuneScape. It can only be fought alone so it is recommended to be prepared with the best equipment you can get if you are planning to challenge it.
The only requirement is a Summoning level of 60; you do not need to complete any quests to fight the Queen Black Dragon, although completing Song from the Depths is recommended as incoming damage is reduced.
The Queen Black Dragon has 8 types of attacks that she uses throughout the fight. They are:
Attack Type Breakdown
Edit
Melee attack
Edit
The Queen Black Dragon will use this technique if the player stands anywhere closer than one square north of middle artefact.
It is an accurate bite attack that can damage up to 1500 lifepoints.
Players are advised to wear strong melee gear if they wish to stand anywhere closer than the first artefact.
This attack can be partially avoided using protect melee prayer.
Ranged Attack
Edit
The Queen Black Dragon uses this technique on a player anywhere on the field, including melee range.
It is a sweeping attack that she does with her head that is accurate and usually hits in the high 1000s, but potentially as high as 2480.
Ranged Deflect/Protections negate 50% of the attack.
Standard Dragon Breath
Edit
The Queen Black Dragon has a dragon breath that even super antifires with a dragonfire shield/anti-dragon shield cannot block. It will hit through both of them and deal damage in the low 400s every time she uses it. Warning: The dragonfire can easily hit 1000 or more if no dragonfire protection is used. After a patch update, it will now have a cooldown, and she will do it once every ten seconds, making the damage much less frequent than before.
Super Dragon Breath
Edit
The Queen Black Dragon will use this technique as a last ditch attempt to kill the player in phase 4. Like the standard dragon breath she uses, it is so hot that even super antifires with a dragonfire shield/anti-dragon shield cannot block it. The Queen Black Dragon will aim the attack at the centre of the field, which will deal up to 1950 damage, but averaging 1500, if you are in the middle and 450 when you stand at the edges. This attack has a short duration and the player will only take damage from this three times.
Note: This attack is also needed in order to forge a Royal crossbow. To forge it, you have to be situated in the centre.
Fire Wave
Edit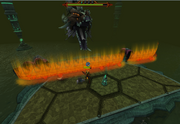 The Queen Black Dragon has an attack reminiscent of the one used by Char during The Firemaker's Curse quest. When she is about to use this attack, the chat box will display "The Queen Black Dragon takes a huge breath" in orange. It is a slow moving attack that will move towards the player in a linear fashion. If caught within the licking walls of flames, players will be damaged for rapid 750s per game tick. There is a pattern to this attack and when she uses it, holes will always appear in one of the 3 types of fire waves she uses. Players are advised to stand close to the centre when the dialogue appears, specifically to the left of the central dragonkin artefact as that is where one fire wave may fail to pass through. Avoid backtracking when she uses this as this results in the player taking 750+ damage from just one fire wall.
The field has a platform of 19 squares and:
Type 1 will pass through on the 15th or the 5th square from the right
Type 2 will pass through on the 9th or 1st square to the left of the centre artefact and
Type 3 will pass through on the 5th square.
She will cycle between these waves so a player may predict where the next gap will be. There is a glitch where players can actually go past the barrier without taking damage.
Summoning
Edit
The Queen Black Dragon will summon level 147 tortured souls. She begins using this technique during phase 2. When she is about to use this attack, the chat box will display "The Queen Black Dragon releases one of its captured souls" in purple. On first summon, the souls will appear one square west of the player. After they speak, one tick later they summon a chaotic cloud which will deal 900-1050 damage onto the player, but you can avoid it by running around the area. More souls are summoned as you proceed (1 at phase 2, 2 at phase 3, and 4 at phase 4).
Time Stop
Edit
The Queen Black Dragon does not use this technique herself but rather through the tortured souls she summons. This attack happens during phase 4 if players do not kill the souls quick enough. One of the souls will then teleport to a corner of the field and start chanting the incantations. If the soul is not killed in 10 seconds, the player's screen will freeze and the Queen Black Dragon will continue attacking as if time wasn't paused. Luckily though, the spirit that teleports to the corner of the map will attempt to attack the player, therefore reducing time and possibly saving your life when this attack is used.
Souls healing
Edit
After phase 3, once the souls are summoned, the Queen Black Dragon uses this ability to heal from them, damaging them in the process. They lose 100 health points every game tick, and heal the Queen for 200 for every 100. A simple method to avoid restoring too much health to the Queen Black Dragon is to quickly dispatch of the souls once the message appears in the game inbox, and thus lessening the amount of health that can be restored. 
Grotworms
Edit
The Queen Black Dragon will cough up level 105 giant grotworms at the end of each phase. She will not stop coughing up the worms until the player has activated the correct artefact on the field. The worms become larger with each phase. These worms can hit accurate 400s if not protected against as with the ones present in the slayer caves. Their magic attacks can be completely avoided with deflection/protection prayers. Some of the worms may not become aggressive towards you, it is unknown whether or not this is a glitch. It is advised to ignore all worms that are not attacking you. After a patch update, the worms were made bigger due to the zoomed camera. These are very weak to bolts which makes range very effective for the whole fight as they can easily die within 5 shots of a ranged weapon.
Magical platforms
Edit
Completing each wave will create a magical platform allowing access to the next artifact. However, a player who stands on these platforms for too long will start taking 1500 damage every few seconds, and receive the game message "You are damaged for standing too long on the raw magical platforms". The game message will not appear if game chat is set to filter. Therefore, make sure you have at least 2000+ lifepoints because you never know when the combination of the platform and worms can kill you.
Crystal Armour
Edit
Occasionally the Queen Black Dragon will turn to a crystal form, at which time she will become more resilient against magic attacks, but significantly weaker to melee and ranged attacks. Damage from the attacks she is weak to will increase (has been proven with damage over time abilties).
Hardened Carapace
Edit
Sometimes the Queen Black Dragon will harden her carapace, making her more resistant to melee and ranged attacks but weaker against magic attacks. Melee and ranged attacks are slightly lowered, while magic attacks gain a damage boost.
Phase One
Edit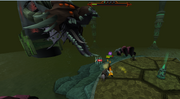 The Queen Black Dragon is fought in four phases. During the first phase, she will attack with melee (if you are within her attack range), Ranged, and Dragonfire. Be aware that this dragonfire attack can hit 700 or higher, so the use of antifire or super antifire potions are a necessity. She will also use a special fire wall attack (shown in the chat box with an orange message). You must pass through the gap in the flames to avoid damage. If this attack does hit, it will hit in the low 200s, dealing damage twice if it passes over you. Running through it may deal damage once, or, timed luckily, may not deal damage at all. In future phases, with multiple waves of flame, reaching a faraway gap may be difficult and running directly through the flames may be a better alternative to taking many hits upon failing to reach the gap. When the health bar for the first stage reaches zero, the Queen will start coughing up level 105 giant grotworms. Touch the dragonkin artefact in the centre of the platform to stop these from appearing. These can hit fairly hard with magic, so it is advised to dispatch them quickly. Avoid letting too many Grotworms spawn by activating the artefact as quickly as possible after depleting the Queen's health bar.
Phase Two
Edit
During the second phase, the Queen will summon a level 137 tortured soul to attack. They will use an avoidable attack that hits about 1000 every time, and then attack with melee. Kill the tortured souls, and then attack the Queen. During this phase, the fire wall special attack will cause two consecutive walls of fire to appear, instead of just one. When the Queen's lifebar runs out, she will cough up more worms. A quick player can touch the second artefact, which is on the left side of the chamber, while only allowing about two giant worms to spawn.
It is possible, when tortured souls have been spawned, to run through them and make them hurt themselves. To do this, remember that they will always teleport right before doing their special attack, at this time you should run through them, and the special attack will hit the tortured soul and not you. This takes some practice, but does save you a lot of time, because in the fourth wave it is possible to use the souls' special attacks to kill one of the four spawned souls in one hit.
Phase Three
Edit
The third phase is similar to the second. However, the Queen will summon two tortured souls instead of one, and there will be three fire waves, instead of two. Once her lifebar reaches zero for the third time, touch the artefact on the right side as quickly as possible.
Phase Four
Edit
The fourth phase is by far the most dangerous. She will summon four tortured souls at once to begin the wave. 4 of them will spawn around you and failing to move out of the way results in you being damaged at least 4000 which is the most common reason for death throughout the whole fight. Also, she will have a few new moves up her sleeve, such as a stronger fire breath and Time Stop. When attempting this phase, move the camera screen as if you are the Queen Black Dragon. Most players are generally busy fighting her they do not notice a soul teleport to one of the corners and therefore die because of this reason. When you are finished taking her health to 0, watch out for any moves if she does use them. She will still summon souls and potentially use her super dragonbreath before she coughs up worms.
For setups you should just wear the best you possibly can; armour does not have unique defences anymore. Therefore the higher the level armour you wear; the better defence and accuracy you will have, so you should mainly focus on weapons.
Optimal Range Set Up
Edit
Optimal Melee Set Up
Edit
Melee is the commonly approved way to kill the QBD. This however, is a dangerous way to kill her as it will be harder to avoid damage from her Fire Walls, and you will also need to be tanking her Ranged attacks which can hit high almost all the time.
Optimal Mage Set Up
Edit
Magic is a viable option for killing the QBD, as she is weak to nothing, and magic can easily dispatch the minions that she sends out during the fight. It is recommended that players be of a high level in Magic and Defence before attempting to use magic to dispatch the QBD however, as the armour will be very weak to her frequent ranged attacks. Using staves is recommended for their damage boost in this battle, as the constant interruptions provided by the QBD and her minions will mean that every extra bit of damage you can deal with your infrequent attacks will improve your chances of putting her back to sleep. 
Optimal Void Hybrid Set Up
Edit
Since the Evolution of Combat, the Queen Black Dragon has undergone a few changes with its mechanics and this means that methods of putting her to sleep have changed. A rather effective method of sending the QBD into her slumber includes to use of the void melee and range sets, a two handed melee weapon such as a godsword or a maul and a bow / crossbow. You should use the melee method to attack the Queen and the tortured soul and then switch to your Void ranger helm and ranged weapon for when the grotworms spawn at the end of each phase.
The Action bar above shows some abilities to use to effectively slay the Queen Black Dragon. The Berserk ability can be used to double your damage output against her. By using the vast number of basic abilities, you should be able to charge to threshold quickly. Using the Assault ability, you can deal up to 15,000 damage in a series of 3 hits. Damage on the queen is capped at 5000 per hit. Note that one can improvise the bar if needed. The recommended melee weapon bars should be outfitted for 2-handed weapons only, as one-handed weapons are too weak to kill her efficiently
Inventories
Example:
Mage and ranged hybrid setup
Edit
By taking equipment for both ranged and magic, not only can you change your attack style to the Queen's weakness when she gains one, but you can also alternate between using the very powerful threshold abilities Rapid Fire and Asphyxiate with very little delay. When she has no weakness and you are not using Asphyxiate, you should stick to ranging her, as it seems she has slightly lower ranged defence than magic.
Example of a Ranged action bar
Example of a Magic action bar
Note how Rapid Fire and Asphyxiate, as well as Anguish and Turmoil, are in the same action bar slot, so you can press the same buttons when switching action bars to activate the required prayer and then use the combo threshold.
Inventories