Consequences for abuse
Discuss

5
22,519pages
on this wiki
The Consequences for abuse (more commonly called Punishment) refer collectively to the actions that Jagex may take against players who violate the Rules of RuneScape in the game or the Code of Conduct in the RuneScape Forums.
Black marks
Edit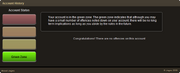 Black marks were a disciplinary measure used by Customer Support to track the offences of a player. When a certain number was reached, the player could be muted or permanently banned.
Players could track the number of black marks on their account by clicking "Appeal an Offence/Ban" in the account recovery section of the website, though they cannot appeal a Legacy punishment.
Black marks are now no longer used to rate the offences of your account.
Offence Pillars
Edit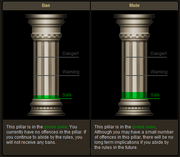 Replacing the old black marks system, Greek syled pillars now measure how much offence has been recorded on your account.
Parts of the pillars are coloured in depending on the offences the player has made, and are sectioned "Safe", "Warning" and "Danger!", or sometimes referred as "Green", "Orange" or "Red".
There are two pillars, each named "Mute" and "Ban". The more one pillar was coloured in, the longer your punishment lasts. Eventually, having a pillar maxed out could lead to a permanent mute or ban, corrosponding to which pillar is coloured. The colour on the pillar rises depend on which rule has been broken.
Both pillars will make an overall colour of your account. If you account is in the Green zone, then you are most likely to be safe. If in the Red, then you are risking permanent muting or banning.
The colours on the pillars will fall when an offence has been appealed and accepted, or when they grow a year old.
A mute is a form of punishment given out by in-game Player moderators, in-game Jagex moderators, and Customer Support to those who are guilty of breaching the Rules of Conduct. Mutes given out by player moderators last 48 hours, long enough for Jagex's Customer Support team to investigate the situation. A muted player will not be able to talk in-game or on the forums, however, they can still play the game as usual and trade with other players. Muted players usually communicate with others by using emotes, Quick Chat or external forms of communication.
Game bans restrict players from access to their accounts, usually for violating one of the Rules of Conduct. If the player appeals their ban, it may be accepted, either restoring the account completely or with a permanent mute.
Bans from the RuneScape Forums are for essentially similar reasons to those in-game; however, they also include flaming and spamming. If a player is muted or banned from the game, they are also automatically banned from the forums.