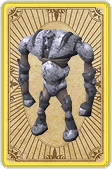 The Protecting titan card is an item that can be found during the Sinkholes Distraction and Diversion. When used, it prevents the player's chest from being moved once in a game. This will nullify the effect of a Trading mantis, Thieving locust or Trading leech card. It will also prevent a Beguiling smoke devil card from activating.
NPCs
Hoardstalker weapons
Hoardstalker outfit
Enemies
Resources
Other rewards
Cards
Familiars
Other
Ad blocker interference detected!
Wikia is a free-to-use site that makes money from advertising. We have a modified experience for viewers using ad blockers

Wikia is not accessible if you've made further modifications. Remove the custom ad blocker rule(s) and the page will load as expected.