Protean hides are used to earn Crafting experience without creating any items, rewarded from Treasure Hunter. Crafting catalysts can be used with protean hides.
Protean hides, as with all protean items, can be converted at a 3:2 ratio into other protean items.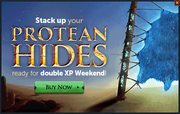 Experience
Edit
The experience given by each protean hide scales according to the player's Crafting level (unaffected by level boosts), and each hide takes 3 seconds to process. The following table lists the amount of experience gained from one protean hide based on Crafting level, and the associated experience per hour (based on crafting 1,200 hides per hour).
Level
XP
XP/h
Level
XP
XP/h
Level
XP
XP/h
Level
XP
XP/h
1
29.8
35,760
26
90.9
109,080
51
151.9
182,280
76
213
255,600
2
32.2
38,640
27
93.3
111,960
52
154.4
185,280
77
215.5
258,600
3
34.7
41,640
28
95.8
114,960
53
156.8
188,160
78
217.9
261,480
4
37
44,400
29
98.1
117,720
54
159.3
191,160
79
220.5
264,600
5
39.5
47,400
30
100.6
120,720
55
161.8
194,160
80
222.7
267,240
6
42
50,400
31
103
123,600
56
164.1
196,920
81
225.2
270,240
7
44.4
53,280
32
105.5
126,600
57
166.6
199,920
82
227.7
273,240
8
46.9
56,280
33
108
129,600
58
169
202,800
83
230.1
276,120
9
49.3
59,160
34
110.4
132,480
59
171.5
205,800
84
232.6
279,120
10
51.8
62,160
35
112.9
135,480
60
174
208,800
85
235
282,000
11
54.3
65,160
36
115.2
138,240
61
176.3
211,560
86
237.5
285,000
12
56.6
67,920
37
117.7
141,240
62
178.8
214,560
87
240
288,000
13
59.1
70,920
38
120.2
144,240
63
181.2
217,440
88
242.4
290,880
14
61.5
73,800
39
122.6
147,120
64
183.7
220,440
89
245
294,000
15
64
76,800
40
125.1
150,120
65
186.2
223,440
90
247.2
296,640
16
66.5
79,800
41
127.5
153,000
66
188.6
226,320
91
249.7
299,640
17
68.8
82,560
42
132.5
159,000
67
191.1
229,320
92
252.2
302,640
18
71.3
85,560
43
132.5
159,000
68
193.4
232,080
93
254.5
305,400
19
73.7
88,440
44
134.8
161,760
69
195.5
234,600
94
257
308,400
20
76.2
91,440
45
137.3
164,760
70
198.4
238,080
95
259.4
311,280
21
78.7
94,440
46
139.7
167,640
71
200.8
240,960
96
262
314,400
22
81.1
97,320
47
144.6
170,640
72
203.3
243,960
97
264.4
317,280
23
83.6
100,320
48
144.7
173,640
73
205.6
246,720
98
266.8
320,160
24
85.9
103,080
49
147
176,400
74
208.1
249,720
99
269.3
323,160
25
88.4
106,080
50
149.5
179,400
75
210
252,000
Ranged armour
Dagannoth
Magic armour
Dungeoneering
Other