Present collection is a bag in which the player can place presents (sapphire to dragonstone) and which can be exchanged for rewards. It is obtained when choosing to start collection from a present item. Presents stack but present collections do not stack, even if they contain the same presents.
Attempting to claim a reward on a present collection that does not have a valid combination of presents gives the message "This combination isn't valid.  Look at the reward option interface for more information."
You cannot add multiple presents of the same colour to a present collection. Trying to do so will give the message, "This collection already contains a [gem colour] present."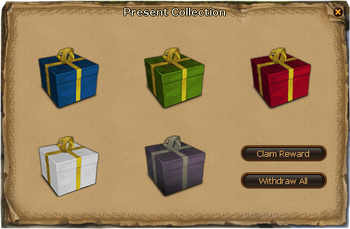 Ad blocker interference detected!
Wikia is a free-to-use site that makes money from advertising. We have a modified experience for viewers using ad blockers

Wikia is not accessible if you've made further modifications. Remove the custom ad blocker rule(s) and the page will load as expected.