The Premier Club Vault is a monthly Distraction and Diversion that can be accessed through a portal in Varrock's Grand Exchange. It is exclusive for members that have a gold Premier Club subscription. Ironmen can access the vault with a different drop table allocated to them.[1]
The activity provides players with the opportunity to win rewards by opening as many chests as they can within one minute. The larger the size of the chest, the bigger the prize that will be within it. However, opening larger chests takes more time, but you get 2x the reward for medium, 3x for large, and 4x for huge chests. Players should open a huge chest in the last few seconds, since you are guaranteed to open the last clicked chest even if time runs out.
Approximate seconds to open chests:
| Size | Time |
| --- | --- |
| Small | 3s |
| Medium | 6s |
| Large | 9s |
| Huge | 12s |
Getting there
Edit
To enter the vault, players need to enter a portal on the west side of the Grand Exchange, which is being guarded by a guardian of the Vault. Talking to them provides information about Premier Club, and information about where the portal goes to.
Entering the portal requires an empty inventory.
Attempting to enter the portal without having a gold Premier Club subscription will give the message You need to be a 2018 Gold Premier Club Member to enter the Vault.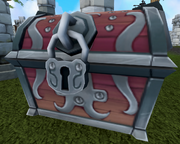 For each chest opened, players will receive an item from the table below. The quantity received is multiplied depending on what type of chest was opened.
Ironman drop table
Edit
This loot table is much different compared to the regular table, and is very similiar to the Dwarven instinct aura's table. The loot is based around total level.
| | Item | Quantity | Rarity | GE price |
| --- | --- | --- | --- | --- |
| | Grimy irit | 3–10 | Varies | 10,236–34,120 |
| | Raw salmon | 18 | Varies | 1,080 |
| | Willow logs | 8 | Varies | 544 |
| | Raw monkfish | 3 | Varies | 1,854 |
| | Coins | 13,280–120,000 | Varies | 13,280–120,000 |
| | Adamantite ore | 2–8 | Varies | 3,052–12,208 |
| | Uncut diamond | 2–12 | Varies | 6,114–36,684 |
| | Teak plank | 6–17 | Varies | 4,512–12,784 |
| | Yew logs | 1–16 | Varies | 166–2,656 |
| | Teak logs | 8 | Varies | Not sold |
| | Crystal key | 1 | Varies | 35,930 |
| | Irit seed | 3 | Varies | 2,022 |
| | Kwuarm seed | 1–8 | Varies | Not sold |
| | Sealed clue scroll (easy) | 1 | Varies | Not sold |
| | Sealed clue scroll (medium) | 1 | Varies | Not sold |
| | Maple logs | 8 | Varies | 544 |
| | Coal | 2; 12 | Varies | 268–1,608 |
| | Plank | 7 | Varies | 3,745 |
| | Oak plank | 1–5 | Varies | 481–2,405 |
| | Raw tuna | 4 | Varies | 140 |
| | Raw lobster | 12 | Varies | 2,472 |
| | Uncut emerald | 7 | Varies | 15,106 |
| | Uncut sapphire | 2 | Varies | 1,414 |
| | Raw swordfish | 23 | Varies | 8,763 |
| | Uncut ruby | 6 | Varies | 9,990 |
References
Edit