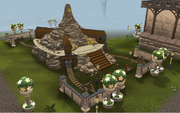 Precious ore is one of the resources in Clan Citadels. It is available at tier 4 and above in Mine skill plots, and is used in many of the upgrades available, such as statues. Precious ore cannot be turned into precious metal bars without a tier 4 furnace.
Mining precious ore does not fill urns.
Skill plots
Resources
Precious ore
Buildings and features
Customisation and costs
Other
Ad blocker interference detected!
Wikia is a free-to-use site that makes money from advertising. We have a modified experience for viewers using ad blockers

Wikia is not accessible if you've made further modifications. Remove the custom ad blocker rule(s) and the page will load as expected.