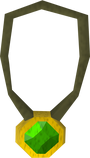 The pre-nature amulet is the precursor to the amulet of nature. It is an unstrung emerald amulet which is strung with magic string. Unlike the enchanted amulet of nature, it can be traded. It can be enchanted with the Enchant Level 2 Jewellery spell, unless you already possess an amulet of nature.
The Pre-nature amulet has no value when alchemised, so it is better to dispose of it at the Grand Exchange or sell it at a store. The amulet has no stat bonuses.
Combat Stats
Requirements
None
Class
Slot
None
Tier
None
Weapons
Main
Off
Damage
-
-
Accuracy
-
-
Style
-
Range
-
Attributes
Damage reduction
Armour
0
PvM:

0%

PvP:

0%

Life points
0
Style bonuses
Prayer
0

0

0

0

[FAQ] • [doc]
Disassembly
Edit
Unstrung
Standard
Enchanted
Non-standard
Translation
Cosmetic
Alchemist's amulets
Others
Ad blocker interference detected!
Wikia is a free-to-use site that makes money from advertising. We have a modified experience for viewers using ad blockers

Wikia is not accessible if you've made further modifications. Remove the custom ad blocker rule(s) and the page will load as expected.