Prayer potion
Discuss

13
24,283pages
on this wiki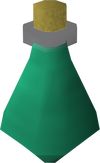 A Prayer potion is a potion made with Herblore that restores 72-317 Prayer points (70 + 25% of total Prayer points) per dose. It appears as a vial containing an aquamarine fluid. Below level 62 Prayer, this potion provides more Prayer restoration than Super restore, although typically Super restores are used to restore other stats rather than simply Prayer, partially because they are significantly more expensive.
Members can make a prayer potion at level 38 Herblore by adding a clean ranarr to a vial of water, and then mixing in snape grass. This makes a potion with three doses, and grants 87.5 experience.
Prayer potions are almost always in high demand due largely to the common use of protection prayers and smiting as a defence in combat. Having a way of restoring Prayer points in the middle of battle, without the need of an altar, is very convenient.
For players who have completed Rum Deal and have a holy wrench in their inventory, 10-30 additional prayer points will be restored per dose of prayer potion. Unfortunately, for the wrench to provide more prayer than an additional prayer potion would have, a player must have both nearly a full inventory of prayer potions and a prayer level of at most around 60. However, the wrench can still be a useful for its money saving properties in situations in which inventory space can be spared.
Assuming the player purchases Ranarr potion (unf) and Snape grass and with almost no distractions, creates 1,800 potions per hour, this would give approximately 157,500 experience per hour.
Adding Wyvern bonemeal to this potion will make a Super prayer potion.
Production costs
Edit
This table is based on the Grand Exchange prices of a vial of water, the ranarr, and snape grass. It is accurate assuming all three items are bought from the Grand Exchange and the Prayer potion is sold afterwards.
| Herb state | Material cost | Profit/loss | Profit/xp |
| --- | --- | --- | --- |
| Clean | 2,746 | -1,226 | -14.01 |
| Grimy | 2,702 | -1,182 | -12.44 |
Unfinished ranarr potions may be substituted, and may be cheaper to buy. The current price is 2,572gp per unfinished potion or 3234gp for both materials. This also allows the first and xp-less step to be skipped, slightly speeding the process.
Prayer restoring potions
Edit
Note: The super prayer potion is untradeable, and the cost is calculated with the ingredients, wyvern bones and a prayer potion (3).
This potion can be made into a Prayer flask by using at least six doses of it with a Potion flask. Players do not need a specific level to turn potions into flasks.
Obtaining
Edit
Dropping monsters
Edit
Prayer potion (1)
Edit
Prayer potion (2)
Edit
Prayer potion (3)
Edit
Prayer potion (4)
Edit
Prayer potions (1) can sometimes be found inside barrels.
Unfinished potions

Coconut milk • Guam • Rogue's purse • Marrentill • Tarromin • Harralander • Ranarr • Toadflax • Spirit weed • Magic essence • Irit • Wergali • Avantoe • Kwuarm • Snapdragon • Cadantine • Lantadyme • Antipoison+ • Dwarf weed • Weapon poison+ • Torstol • Antipoison++ • Weapon poison++ • Fellstalk

Combat potions

Attack (mix) • Strength (mix) • Defence (mix) • Magic (mix) • Ranging (mix) • Combat (mix) • Super attack (mix) • Super strength (mix) • Magic essence (mix) • Super defence (mix) • Antifire (mix) • Super ranging (mix) • Super magic (mix) • Zamorak brew (mix) • Saradomin brew • Super antifire • Extreme attack • Extreme strength • Extreme defence • Extreme magic • Extreme ranging • Super Guthix rest • Super Saradomin brew • Super Zamorak brew • Overload

Recovery potions

Stat restore (mix) • Energy (mix) • Summoning • Prayer (mix) • Super energy (mix) • Super restore (mix) • Sanfew serum • Adrenaline potion • Super prayer • Prayer renewal

Cures and antipoisons

Relicym's balm (mix) • Antipoison (mix) • Super antipoison (mix) • Yeti curse cure • Sanfew serum • Antipoison+ (mix) • Antipoison++

Skill potions

Agility (mix) • Fishing (mix) • Hunter (mix) • Fletching • Crafting

Unfinished Juju potions
Juju potions

Juju hunter potion • Scentless potion • Juju farming potion • Juju cooking potion • Juju fishing potion • Juju woodcutting potion • Juju mining potion • Saradomin's blessing • Guthix's gift • Zamorak's favour

Weapon poisons
Others

Bravery potion • Cadava potion • Goblin potion • Guthix balance (unf) • Guthix balance • Guthix rest • Potion • Mixture - step 1 • Mixture - step 2 • Shrink-me-quick • Super fishing explosive • Troll potion • 'voice of doom' potion • Olive oil • Sacred oil • Serum 207 • Serum 208 • Yeti curse cure

Tars

Guam • Marrentill • Tarromin • Harralander

Flasks

Agility • Antifire • Antipoison • Antipoison+ • Antipoison++ • Attack • Crafting • Defence • Energy • Extreme attack • Extreme defence • Extreme magic • Extreme ranging • Extreme strength • Fishing • Fletching • Guthix's gift • Guthix balance • Hunter • Juju cooking • Juju farming • Juju fishing • Juju hunter • Juju mining • Juju woodcutting • Magic essence • Magic • Overload • Prayer • Prayer renewal • Ranging • Adrenaline • Relicym's balm • Restore • Sanfew serum • Saradomin's blessing • Saradomin brew • Scentless potion • Serum 207 • Serum 208 • Summoning • Super antifire • Super antipoison • Super attack • Super defence • Super energy • Super magic • Super prayer • Super ranging • Super restore • Super strength • Weapon poison • Weapon poison+ • Weapon poison++ • Zamorak's favour • Zamorak brew • Super Guthix • Super Saradomin • Super Zamorak

Dungeoneering potions

| | |
| --- | --- |
| Weak potions | Magic • Ranged • Melee • Defence • Stat restore • Cure • Rejuvenation • Weapon poison • Gatherer's • Artisan's • Naturalist's • Survivalist's |
| Normal potions | Magic • Ranged • Melee • Defence • Stat restore • Cure • Rejuvenation • Weapon poison • Gatherer's • Artisan's • Naturalist's • Survivalist's |
| Strong potions | Magic • Ranged • Melee • Defence • Stat restore • Cure • Rejuvenation • Weapon poison • Gatherer's • Artisan's • Naturalist's • Survivalist's |