Pox is a cat belonging to Hooknosed Jack, a strange man located outside the Dancing Donkey Inn in south-eastern Varrock. During the Ratcatchers quest, the players must poison a wedge of cheese in order to kill some rats. However, Pox ended up eating one of the rats, which in turn, made him sick. The dilemma is then solved by obtaining some Cat antipoison and using it on Pox.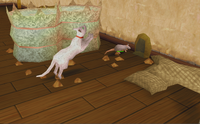 He is found by the manhole close to Hooknosed Jack in Varrock, and inside the warehouse full of rats during the quest.
His name is a reference to the disease, Pox, which is often caused by viruses found in animals.
He looks slightly different when hunting rats inside the warehouse to how he looks when with Jack.
NPCs
Items
Rewards
 Rat pole
Locations
Music
Miscellaneous
Ad blocker interference detected!
Wikia is a free-to-use site that makes money from advertising. We have a modified experience for viewers using ad blockers

Wikia is not accessible if you've made further modifications. Remove the custom ad blocker rule(s) and the page will load as expected.