Potion flask
Discuss

21
24,279pages
on this wiki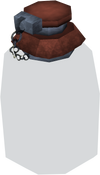 The potion flask acts as a jumbo vial that can hold up to six doses of potion rather than the four doses of a traditional vial. It may also be used to hold untradeable potions such as juju potions and overloads. Upon finishing the potion the flask will break.
Potion flasks can only be created after completing the quest As a First Resort..., since the robust glass machine (to melt red sandstone into robust glass, which is used to make potion flasks) becomes accessible after completion of that quest.
Potion flasks are made by using a glassblowing pipe with robust glass, yielding 100 Crafting experience. Creating flasks requires 89 Crafting; players may boost their level if below 89 but can not be assisted. By crafting flasks there is a chance of receiving a strange rock for Crafting. After a sip of potion has been taken from the flask, it cannot be sold over the Grand Exchange; however, they can still be traded with other players. Assuming a player does their daily mining of red sandstone, they will gain a minimum of 7,500 crafting experience each day making flasks.
Note: The level is boostable allowing you to produce the Flasks at level 86 with crafting potions which are easily bought from the GE. One sip of crafting potion gives enough time to create up to a full inventory of flasks at level 86 crafting or more at level 87/88 crafting.
Empty potion flasks may be filled by using the flask on the normal potion or vice versa, provided that there are at least 6 doses of potions in vials. It is recommended that players do the former to prevent accidental consumption and additional clicking to evade the drink option. The optimal inventory setup for decanting potions is 17 4-dose potions and 11 flasks.
Potion flasks may be decanted together, and it is possible for one of the flasks to be topped. However, vials may not be decanted into partially-filled flasks. Potions in flasks may also be decanted back into empty vials. However, for either of these tasks, only flasks containing 4 doses or less may be decanted; players will not be allowed to move potion from a 5 or 6 dose flask into a vial. Also, the flask is not kept upon decanting. Whenever decanting potion out of a flask it is destroyed as if it were drunk.
Despite being created entirely of non-tradeable materials, the flask itself is tradeable, as are any flasks containing tradeable potions. The resources required to craft robust glass are non-tradeable and have a maximum of 50 (75 if the player has completed the elite Desert Tasks) available to players daily (or more with the extra ores bonus from Shooting Star and the saved ores from the resourceful aura).
Unfinished potions

Coconut milk • Guam • Rogue's purse • Marrentill • Tarromin • Harralander • Ranarr • Toadflax • Spirit weed • Magic essence • Irit • Wergali • Avantoe • Kwuarm • Snapdragon • Cadantine • Lantadyme • Antipoison+ • Dwarf weed • Weapon poison+ • Torstol • Antipoison++ • Weapon poison++ • Fellstalk

Combat potions

Attack (mix) • Strength (mix) • Defence (mix) • Magic (mix) • Ranging (mix) • Combat (mix) • Super attack (mix) • Super strength (mix) • Magic essence (mix) • Super defence (mix) • Antifire (mix) • Super ranging (mix) • Super magic (mix) • Zamorak brew (mix) • Saradomin brew • Super antifire • Extreme attack • Extreme strength • Extreme defence • Extreme magic • Extreme ranging • Super Guthix rest • Super Saradomin brew • Super Zamorak brew • Overload

Recovery potions

Stat restore (mix) • Energy (mix) • Summoning • Prayer (mix) • Super energy (mix) • Super restore (mix) • Sanfew serum • Adrenaline potion • Super prayer • Prayer renewal

Cures and antipoisons

Relicym's balm (mix) • Antipoison (mix) • Super antipoison (mix) • Yeti curse cure • Sanfew serum • Antipoison+ (mix) • Antipoison++

Skill potions

Agility (mix) • Fishing (mix) • Hunter (mix) • Fletching • Crafting

Unfinished Juju potions
Juju potions

Juju hunter potion • Scentless potion • Juju farming potion • Juju cooking potion • Juju fishing potion • Juju woodcutting potion • Juju mining potion • Saradomin's blessing • Guthix's gift • Zamorak's favour

Weapon poisons
Others

Bravery potion • Cadava potion • Goblin potion • Guthix balance (unf) • Guthix balance • Guthix rest • Potion • Mixture - step 1 • Mixture - step 2 • Shrink-me-quick • Super fishing explosive • Troll potion • 'voice of doom' potion • Olive oil • Sacred oil • Serum 207 • Serum 208 • Yeti curse cure

Tars

Guam • Marrentill • Tarromin • Harralander

Flasks

Agility • Antifire • Antipoison • Antipoison+ • Antipoison++ • Attack • Crafting • Defence • Energy • Extreme attack • Extreme defence • Extreme magic • Extreme ranging • Extreme strength • Fishing • Fletching • Guthix's gift • Guthix balance • Hunter • Juju cooking • Juju farming • Juju fishing • Juju hunter • Juju mining • Juju woodcutting • Magic essence • Magic • Overload • Prayer • Prayer renewal • Ranging • Adrenaline • Relicym's balm • Restore • Sanfew serum • Saradomin's blessing • Saradomin brew • Scentless potion • Serum 207 • Serum 208 • Summoning • Super antifire • Super antipoison • Super attack • Super defence • Super energy • Super magic • Super prayer • Super ranging • Super restore • Super strength • Weapon poison • Weapon poison+ • Weapon poison++ • Zamorak's favour • Zamorak brew • Super Guthix • Super Saradomin • Super Zamorak

Dungeoneering potions

| | |
| --- | --- |
| Weak potions | Magic • Ranged • Melee • Defence • Stat restore • Cure • Rejuvenation • Weapon poison • Gatherer's • Artisan's • Naturalist's • Survivalist's |
| Normal potions | Magic • Ranged • Melee • Defence • Stat restore • Cure • Rejuvenation • Weapon poison • Gatherer's • Artisan's • Naturalist's • Survivalist's |
| Strong potions | Magic • Ranged • Melee • Defence • Stat restore • Cure • Rejuvenation • Weapon poison • Gatherer's • Artisan's • Naturalist's • Survivalist's |