Jogre Dungeon
Discuss

7
22,487pages
on this wiki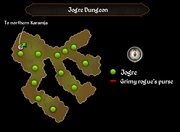 The Jogre Dungeon (also called the Pothole dungeon in the Karamja Diary) is located on Karamja south of Brimhaven and northeast of Tai Bwo Wannai. Level 53 Jogres live here. Rogue's purse herbs can be found by searching the moss covered walls.
Location: Directly south across the river from the volcano near Musa Point, you will see a curved, brown wall on the map.This is a coastal cliff which you can't climb down. You will need to approach the dungeon entrance from the East side walking along the coast to reach it. You will come across Harpie bug swarms (level 46) good for slayer level 33 with Harpie bug lantern. If you don't want to fight them just keep running along the coast West until you come across a pile of rocks in a pit. Search the rocks and you will get the following message:
"You search the rocks and find the entrance into some caves."
"Would you like to enter the caves?"
"Yes, I'll enter the caves / No thanks, I'll give it a miss."
Say Yes and you will get the message: "You decide to enter the caves. You climb down several steep rock faces into the cavern below."
You will enter the Jogre Dungeon.