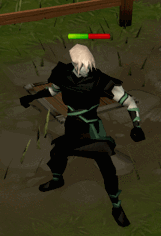 Portent of restoration X is a portent created with level 97 Divination using 60 incandescent energy and 1 rocktail, yielding 23.4 Divination experience. When a player's life points drop below 50%, this item will automatically heal 1725 life points if it is in the player's inventory and if the player has at least level 93 Constitution.
Please note that this portent will not activate if the player lowers their life points using the abilities Shadow Tendrils, Smoke Tendrils or Blood Tendrils.
This portent will activate while the player is stunned.
Portent of restoration X
-
23.4 XP
-
-
Requirements
Divination level
97
Members only
Yes
Materials
Item
Quantity
Price
Total
Incandescent energy
60
299
17,940
Rocktail
1
3,210
3,210
Total price
21,150
Drop sources
Edit
This list was created dynamically. For help, see the FAQ.
To force an update of this list, click here.
For an exhaustive list of all known sources for this item, see here.
Disassembly
Edit
Ad blocker interference detected!
Wikia is a free-to-use site that makes money from advertising. We have a modified experience for viewers using ad blockers

Wikia is not accessible if you've made further modifications. Remove the custom ad blocker rule(s) and the page will load as expected.