A Portal is a form of transportation that enables players to teleport between two places. Unlike ordinary teleports, portals can only be used at a fixed location and they can be used an unlimited number of times.
Construction
Edit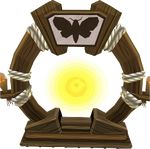 There are three portals on the top floor of the Wizards' Guild.
Runecrafting
Edit
Dungeoneering
Edit
Random events
Edit
The following Random events used to use portals as a way of exit.
There are other portals scattered throughout RuneScape.